Assistant professor helps Decatur grade school students learn robotics
HUNTSVILLE, Ala. (January 29, 2013) — With the help of a University of Alabama in Huntsville assistant professor, Oak Park Middle School in Decatur is leading the way forward with a new advanced robotics effort for the 6th-8th grade Talented and Gifted (TAG) program.

All of it was made possible through a recent collaboration between Dr. Robin Gillespie of Oak Park and Dr. John D. Williams, Assistant Professor of Electrical and Computer Engineering at UAHuntsville.

Dr. Williams and his graduate student, Randy Gaillard, developed a series of lessons and activities designed to introduce microcontroller driven robots using a C-based programming language and student-assembled electronic circuits.

Over an eight-week period, students explored general concepts in robotics such as the physics of a DC motor and how solar energy can be harnessed to power electronics. They were then introduced to an Arduino electronic controller package that is used to program and control an ATMEGA328 microcontroller.

The class of 21 was then tasked to write programs that control light emitting diodes (LEDs), light dependent resistors (LDRs), DC motors, servos, and various sensor and actuator mechanisms that can all be controlled by their Arduino electronics board.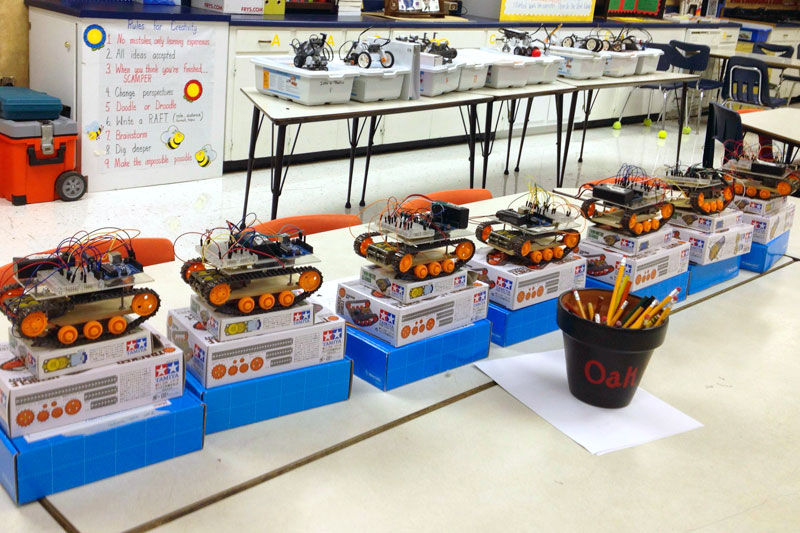 In conjunction with the programming effort,students worked in teams of three to build their own robots using kits designed and purchased for Oak Park. Each student demonstrated a basic understanding of the assembly and programing of DC motor-driven robots with active sensing and control mechanisms.
For more information,
Contact Dr. John D. Williams
256-824-2898
jdw0010@uah.edu
OR
Jim Steele
256-824-2772
Jim.Steele@uah.edu
---
You may also be interested in: