UAHuntsville graduate's second career has her living out dream in Hollywood
HUNTSVILLE, Ala. (Oct. 17, 2011) — It was the junior year at The University of Alabama in Huntsville for Jennie Floyd and she couldn't hide any longer. The time had arrived for her to take on the class she most feared.
Successfully completing speech class was a requirement for business-management majors in the late 1970s. The class was standing in the way for Floyd, a person who had never liked the thought of getting up in front of a crowd and talking.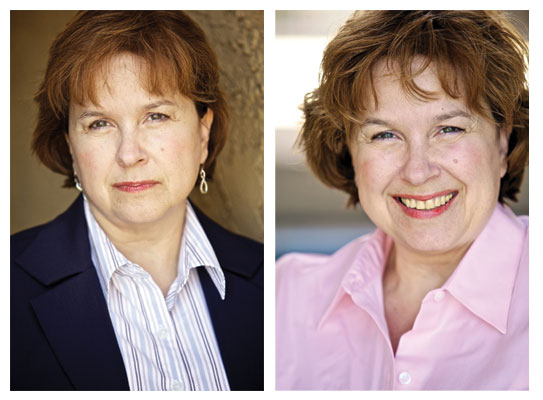 "It was the hardest class I've taken in my life," said Floyd, a 1979 UAHuntsville graduate who is now enjoying a second career as a Hollywood actor. "It's without a doubt the toughest 'A' I've ever made."
She certainly can relate to those who say public speaking is a bigger fear than dying.
"I was scared to death of public speaking," Floyd said. "I had never really done it before, but that year I went from my knees knocking and teeth chattering to giving a good speech. Had I not learned to speak in public, I would never have been able to do this work.
"My education gave me confidence, good grounding logic, and it taught me how to think and ask the right questions. The business skills I learned also help with the production end of the (acting) business; you've got to come in on budget. I see the benefits of my education every day."
Floyd, now 53, oversaw a $5 million management consulting business and spent 21 years in the telecommunications industry during her first career.
That career and Floyd's life took an abrupt turn on a business trip to Boston. She was walking to work in downtown Boston when she injured her back. She was diagnosed with a ruptured disc that is inoperable.
"I was unable to go back to work at a desk job," Floyd said. "I couldn't sit or stand for long periods, and that continues today. Had that not have happened, I'm sure I would still be involved in the business. It was something I loved doing."
Searching for something to do, Floyd turned to a childhood passion – acting.
As a kid, she was known as "the little performer" in her neighborhood. She put on plays and held shows at her house. She had also been involved in theatrical shows and did a little dancing and singing. But none of that prepared her for what was ahead of her in a second career.
"Since I was disabled, I started looking for something to do that was pretty flexible," Floyd said. "I decided to see what might be available in acting. People thought I was nuts trying to get into acting at my age. The age has never bothered me, though. I figured why not give it a shot.
"As a little girl, I always wanted to act but it never seemed practical. Back in the 1970s, no one thought a little girl from Huntsville, Alabama, would make it to Hollywood. I'm living a dream."
Floyd has a big fan in her acting coach, Charlene Tilton. She has been working with Tilton since April in an audition technique class. Tilton is perhaps best known for her role as Lucy Ewing in the former prime time television hit "Dallas."
"I am so proud of Jennie for going all out to pursue her dreams," she said. "Most people never take the leap of faith that is required to succeed. She has overcome some odds to get to where she is today.
"She is very talented and a gifted actress, but she also has the tenacity and never-give-up attitude it takes to work as an actor and producer. I can't wait for the opportunity to work with her on a television or film project."
Among Floyd's first acting efforts was in a community theater producing the play "Little Shop of Horrors." The play opened the week before the 9/11 attacks on America.
"We had a lot of fun doing that, but when 9/11 happened we all felt the responsibility to the audience to help them forget and make them feel better," she said. "Theater and the arts in general play a major role in our society. We would all miss it if they were not available."
After performing in numerous plays and musicals in the San Francisco area, Floyd got involved in television in 2005. In a role as a nurse on Grey's Anatomy, "you could actually see my face," she said with a laugh.
Her specialty has been re-enactment TV, including roles on "I'm Alive" on Animal Planet, "1000 Ways to Die" on Spike, "High School Stories" on MTV, and "I Didn't Know I Was Pregnant" and "Angels Among Us" on TLC.
"My biggest role was on "I'm Alive," Floyd said. "I was the mother of a boy who survived a close encounter with 300 fire ants."
Most recently, she stars in a yet-to-be-released independent film "Child of God." She plays the role of a church secretary who is recently widowed and lived a sheltered life. She also plays a supporting role as a border sheriff in New Mexico in a film about the Mexican drug cartels, "Justice on the Border," which premiered Aug. 20.
She is co-producing and starring in an original play that probes into husbands leaving their wives for other women, "To the New Girl from the Former Mrs." The play opened in August in North Hollywood.
As for the future, Floyd said larger roles could be headed her way as a result of joining the Screen Actors Guild and American Federation of Television and Radio Artists. She said membership in those organizations could lead to roles in prime time TV shows.
She said she feels no pressure to get the next job, unlike many younger actors trying to survive in the business.
"I stay plenty busy and I enjoy it," she said.
Floyd said many people have discussed her college and home state during her numerous travels within the country and overseas. She said she loves the opportunity to tell them how proud she is of her hometown, UAHuntsville and state.
Floyd moved to Huntsville at age 5. Her father moved the family from North Carolina when he accepted an opportunity to work in the NASA space program as a project manager.
"The school was small enough where one person could have an impact," said Floyd. "It has a big-school feel, but it is very much a small college in many ways. You have a good relationship with your professors and it's a great atmosphere. It was challenging there, too. That combination is why I attended school there."
Among her favorite memories at UAHuntsville is "sitting by that lake on campus and having lunch. I just remember taking in that natural beauty."
She calls Huntsville "a treasure" and UAHuntsville "an elite engineering school that people know about all over the world."
"Huntsville will always be my home town, and I will always have a strong tie to Alabama," she said. "I'm proud of my heritage. I like telling people that no matter where you're from or your circumstances, go for your dreams and don't give up."
For more information,
contact Ray Garner
256.824.6397
(256.UAH.NEWS)
ray.garner@uah.edu