UAHuntsville Ph.D. candidate is one of 41 in nation awarded prestigious Ford Fellowship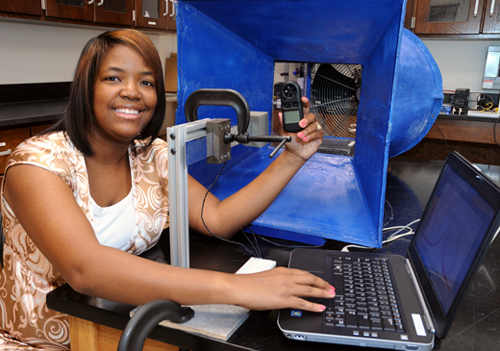 HUNTSVILLE, Ala. — Shushannah Smith is pursuing an advanced degree at The University of Alabama in Huntsville, and she has a clear view of how that degree will fit into her future plans.
Smith is aspiring to earn her Ph.D. in mechanical and aerospace engineering, and she hopes to become a university professor and serve as a director of a minority education program focused on STEM (Science Technology Engineering and Mathematics) majors.
"Minorities are underrepresented in these fields, and I want to help increase awareness and the number of professional/educated minorities in the STEM areas," she said.
Smith is well on her way to a promising career. The UAHuntsville graduate student is one of 41 college students in the nation to be awarded the prestigious Ford Foundation Fellowship.
"I came to UAH to earn a Ph.D. in mechanical engineering so that I could give back to my students," Smith said. "I want to be the type of professor who has practical, industry experience and thus can give students a real-world view of how their education will factor into their careers.
That fellowship will help alleviate the burden of working while attending classes. The purpose of the Ford Foundation Fellowship, she said, is to increase the diversity of the nation's college and university faculties by increasing their ethnic and racial diversity, to maximize the educational benefits of diversity, and to increase the number of professors who can and will use diversity as a resource for enriching the education of all students.
She approached Dr. Dawn Bardot, her advisor, for help on seeking the fellowship.
"Dr. Bardot suggested I go on the web and Google fellowships, and that's what I did," says Smith. "I looked up fellowships for women, engineers, and minorities."
What came up was the Ford Foundation Fellowship, a pre-doctoral fellowship that includes a stipend of $20,000 per year and $2,000 per semester tuition allowance for up to three years.
Smith decided to apply, but she says was warned by many not to be overly optimistic about her chances. "It was the first fellowship I'd ever applied for in my entire life, and everyone said 'Don't be disappointed if you don't get it the first time, because you're just learning the process.' So I went through the whole thing looking at it as learning opportunity."
Dr. Keith Hollingsworth, Professor and Chair of the Mechanical and Aerospace Engineering Department, said he has been impressed with Smith's intelligence and drive.
"I am not surprised that the proposal Shushannah developed and submitted went on to win such a prestigious scholarship," he said. "I know Shushannah to be a delightful and remarkably enthusiastic young lady, and we in the MAE Department are very proud of her."
Just as proud was Dr. Shankar Mahalingam, Dean of the College of Engineering. "The Ford Foundation scholarship is among the most prestigious awards that will allow Shushannah to complete her Ph.D.," he said. "In addition, it provides tremendous national visibility to our faculty research in the department of Mechanical and Aerospace Engineering."
Smith came to UAHuntsville because of its reputation of producing quality engineers. "I knew I would get a sound and comprehensive education," she said. "Plus, I live here and did not want to relocate my entire family in order to pursue a terminal degree."
She said the professors at UAHuntsville are extremely knowledgeable and experienced. "Their experience means that they incorporate "real" examples (not just textbook examples) of the application of the material covered in class. This helps to give course content more meaning and make it easier to understand."
Smith says this praise and other kudos she has received have humbled her. "I didn't expect it," she says. "I thought 'Yea, me!', but I didn't think anyone else would be excited! Because I didn't do it for the notoriety; I just wanted to pay for school." And yet at the same time, it's precisely that kind of support and interest in her personal success that Smith says made her choose to pursue her degree at UAHuntsville rather than any other school.
"There is a small-school feel here, where the professors know you by name. They encourage you and you know they care about you," she says. In fact, it's testament to this camaraderie that the first person Smith contacted after hearing she'd been selected was her former advisor, Dr. Bardot. "She had left UAHuntsville by that time, but she was the first person I emailed!" says Smith.
And her relationship with her current advisor, Dr. Gang Wang, is just as close. "I am so thankful to him," says Smith. "I'm his first Ph.D. student, so he's very interested in me being successful. He's partnered to help me and I've partnered with him, so I'm doing research for him on fracture analysis."
That's a far cry from what this one-time math teacher and full-time mom thought she'd be pursuing as a career. "It had never occurred to me in my life to be an engineer." But, she says reflectively, "there were signs all along the way." Today, there can be no doubt that the Ford Foundation Fellowship was the biggest sign of all.
For more information,
contact Ray Garner
256.824.6397
(256.UAH.NEWS)
ray.garner@uah.edu