UAHuntsville alumnus becomes first African-American to fill senior executive position at Stennis Space Center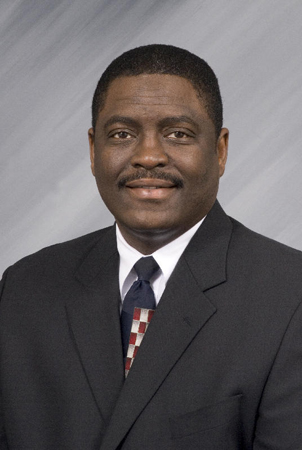 HUNTSVILLE, Ala. —Freddie Douglas III (Engineering, MAS '89), was recently selected to fill a new Senior Executive Service (SES) position at the John C. Stennis Space Center.
Douglas is the first African-American to be assigned an SES job at NASA's largest rocket engine test facility in Mississippi.
He previously served as manager of the Safety and Mission Assurance (SMA) office at Stennis. He was competitively chosen to fill the role and continue performing safety duties. The SMA office is responsible for the safety and mission success of all activities executed at Stennis, including public and private rocket engine testing and the work of more than 30 resident entities that comprise the federal city.
Douglas joined NASA at Marshall Space Flight Center in Huntsville, in 1983, as a professional intern. There, he worked on several projects, such as the International Space Station, the Hubble Space Telescope and the post-Challenger Accident Return to Flight effort. He also served as a neutral buoyancy diver.
He transferred to Stennis Space Center in 1989. At the center, he has worked on the space shuttle main engine test project, research-and-development rocket testing and other agency initiatives. He also has served in both project and functional management positions. Prior to leading Stennis' Office of Safety and Mission Assurance, Douglas served as its deputy manager. In 2007, he was also selected as the Stennis chief engineer with the Langley Research Center-based NASA Engineering and Safety Center.
In addition to his extensive work experience, Douglas received a bachelor's degree from Southern University and A&M College in Baton Rouge, La., and earned advanced degrees from UAHuntsville and Massachusetts Institute of Technology in Cambridge. He also holds the rank of commander in the U.S. Navy Reserve.
For more information
Joyce Anderson-Maples
256.824.2101
maplesj@uah.edu