UAHuntsville's Michael Griffin installed as president of the American Institute of Aeronautics and Astronautics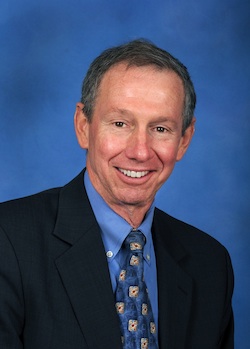 HUNTSVILLE, Ala. – Michael Griffin, the King-McDonald Eminent Scholar and Professor of Mechanical and Aerospace Engineering at The University of Alabama in Huntsville, was installed as President of the American Institute of Aeronautics and Astronautics (AIAA) on May 10, 2012.
"I'm very honored to have been selected as President of AIAA," said Dr. Griffin. "This organization has dedicated itself to being the leading force in the aerospace profession. Over the decades, AIAA members have been involved in every milestone in American flight, and I look forward to helping carry out that rich tradition."
He will be the first president of AIAA to serve a two-year term. During that time, he intends to focus the institute's efforts on increasing membership by further broadening the relevance of AIAA to today's aerospace professionals. These efforts will include a focus on aerospace systems as opposed to technical disciplines, as well as enhancing the involvement of AIAA in the discussions and forums where the nation's aerospace policies are debated.
Dr. Griffin brings to the position over 40 years experience in the aerospace industry. From 2005-2009, he was the Administrator of NASA. Prior to re-joining NASA, he was Space Department Head at the Johns Hopkins University Applied Physics Laboratory. He has also held numerous executive positions with industry, including President and Chief Operating Officer of In-Q-Tel, Chief Executive Officer of Magellan Systems, General Manager of Orbital Science Corporation's Space Systems Group, and Executive Vice President and Chief Technical Officer at Orbital.
ABOUT AIAA
The American Institute of Aeronautics and Astronauticsis the world's leading professional society in the field of aerospace science, engineering, and operations. AIAA's mission is to address the professional needs and interests of the past, current, and future aerospace workforce and to advance the state of aerospace science, engineering, technology, operations, and policy to benefit the global society.
ABOUT UAH
The University of Alabama in Huntsville is a doctoral-granting, "very high research activity" institution with approximately 7,700 students. The campus is among U.S. News & World Report's Tier 1 national universities. UAHuntsville is the anchor tenant in Cummings Research Park, the second largest research park in the United States. More information about UAH can be found at www.uah.edu.
For more information,
contact Laurie Provin
256.824.4419
256.318.0255
lsp0004@uah.edu