UAHuntsville alumna rising star in national, international art world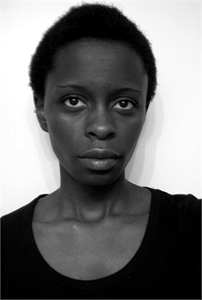 Oluwatoyin "Toyin" Odutola
HUNTSVILLE, Ala. —Most artists wait a lifetime for fame and recognition, but Oluwatoyin "Toyin" Odutola has quickly made a name for herself nationally and internationally since graduating from The University of Alabama in Huntsville in 2008.
Toyin (B.A. studio art and communications) is best known for creating highly detailed portrait drawings in pen ink. Her public collections are held in several prestigious art museums including The National Museum of African Art (Smithsonian Institution, Washington D.C.), The Honolulu Museum of Art, The Birmingham Museum of Art and the San Francisco Foundation 2011 Murphy and Cadogan Fellowship Awards Exhibition SOMArts Cultural Center. The Jack Shainman Gallery in New York represents the art world's rising star.
It was Toyin's obsession with the perfect likeness of Timon, the meerkat (portrayed by comedic actor Nathan Lane) from Disney's The Lion King that sparked the flame for her love of art. Born in Ife, Nigeria, Toyin was nine when her family moved to Alabama.
"I was five when we came to the United States of America. When we first moved here my first thoughts as a child were to be as reckless and open as possible," Toyin recalled. "In Ife, I remember living in a small college subdivision where some of my cousins also lived. We had a well where we would sometimes gather water. I remember there were tall leaves. There was also brilliant sunlight…. lots of greenery and foliage, and mountains. I ran around like a crazed lunatic in pure happiness a lot. I believe that all changed once we moved to Alabama.
"For some reason the move to Alabama was rather traumatic for me," she said. "I think it was because to move so many times at a young age felt unstable and life became slightly more unpredictable. Suddenly, I was weary of having to constantly uproot myself and depend on my environs for validation or worth."
"The drawings of Timon were an intimate and strange sort of meditation for an otherwise very restless child," she said. "They allowed me me to center my thoughts and focus intently on something personal …. albeit silly at the time, but that sort of searching for definition, trying to accurately capture a portrait in a moment, that never left me."
Under the tutelage of Dana Bathurst, a Catholic High School art teacher, Toyin perfected her skills, "drawing constantly." She began to focus much of her attention on artistic pursuits beyond high school and dreamt of new possibilities for her talent. "Dana Bathurst was a fantastic teacher who transformed my idea of what being an artist meant, and she introduced me to many African American artists and writers who continue to influence me to this day."
In 2005, Toyin transferred to UAHuntsville from another Alabama university. "Although I made friends, my experience at the other university was not pleasant. … It was often isolating. Transferring to UAHuntsville was the greatest decision I ever made and I owe it all to my parents, who upon visiting me one semester heavily suggested I withdraw. They could see in my eyes that I was not in it anymore and, what was worst, I wasn't making artwork with as much passion.
"If it wasn't for supportive UAHuntsville professors who all just wanted us to love what we did and the process first and not what was expected of us to love or do, I don't know where my head would be at this point. They implanted in me the principle that I could make my own art and that was OK," she said.
Ironically, Toyin attributes UAHuntsville's reputation as an engineering school, for defining and solidifying her independence as a student. "Although the College of Liberal Arts was not the singular entity of the UAHuntsville campus, we had our own space to roam … albeit small, but it was ours to make. Through that experience, I learned how important it is to ground yourself in your work and to never let outside voices get the best of you. The tools I gathered from UAHuntsville have always remained within me and I will continue to hold fast to them."
While at UAHuntsville Toyin perfected her use of the self-portraits, methodically drawing them in detail with black, ballpoint pen.
"For most of the works which composed my first solo show in New York last year, entitled "(MAPS)," I intentionally honed in on the self-portrait. A lot of it had to do with me figuring out what to do with this style, or language, of drawings I had begun in Alabama and explored while I was at UAHunstville. I knew that I liked the aesthetic, but I was lost on how this applied to what I wanted to say conceptually.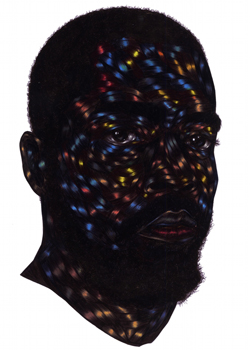 "Creating diptych drawings (a pair of pictures on two panels, hinged together) allowed me to create a narrative for myself," she explained. "Suddenly the academic, static portraits I was doing early on for pure enjoyment as an undergrad no longer were of interest, and these self portrait diptychs took on another meaning for me as a grad student. I wanted to broaden the definition of what I was and what it meant to be Black and to be a woman now.
"Furthermore, I love employing my tool of choice: pen ink. A seemingly ubiquitous tool that is accessible to everyone and supposedly rudimentary, I am utilizing it to rewrite what the pen is capable of expressing and what I, as a artist, am capable of bringing out of it. It's all about realities and perceptions."
Toyin's star in the art world is rising at breakneck speed. So much so, even she admits, "I cannot comprehend it. It's all so surreal. Seriously, I owe everything to my family and close friends, and everyone who ever believed in me and supported me."
While she is extremely "grateful" to all who have unconditionally supported her craft on a personal level. Toyin is very clear on the one person who has helped establish her professionally.
"Without question it is Hank Willis Thomas," she said. "There is a kidney inside me that has his name tattooed on it. I'm kidding. No, I'm not. He's one of the reasons I was inspired to apply to the prestigious California College of the Arts (CCA) in San Francisco, and he is my major connector to the Jack Shainman Gallery in New York. He jokingly calls me his 'protégé'. I reverentially refer to him as my 'game changer'."
Thomas is a celebrated contemporary African American visual artist and photographer whose interests include advertising, race and popular culture. His works have been exhibited in galleries and museums throughout the United States and abroad.
Recently, articles about Toyin have appeared in numerous national and international magazines including Vogue Italia, The New York Times,ARTFORUM International, ARTnews Magazine, Art Nouveau Magazine/An-Mag.com, The Examiner and Think Africa Press. For now, she is preparing for her upcoming California College of the Arts MFA Thesis Exhibition. She is scheduled to graduate from CCA in May. And, Toyin recently exhibited at The Armory Show with the Jack Shainman Gallery. The event is a leading international contemporary and modern art fair and one of the most important annual art events in New York.
For Toyin (whose full name in Yoruba means "God is worthy of praise"), life couldn't be sweeter. She now sees joy in her mother's eyes as she eagerly reads an article that someone has written about her work. And she hears pride and warmth emanating from her father's voice as he talks with her about a recent art show.
"I was predestined to be a lawyer in the minds of my dear Nigerian parents, but I persisted with my drawing. They supported me, but there were times when they voiced their doubts and concerns, about a child who was involved in such an enterprise, or lack thereof called 'artmaking.' Now that all of this is happening, they are very proud. It feels great knowing that I am carrying the Odutola name. I feel honored," she said.
After graduating, Toyin plans to return to Huntsville for a "much needed break" and to spend time with her family and work towards forthcoming exhibitions. "Huntsville summers are considerably warmer than those in San Francisco Bay. I can't wait to bathe in the humid heat with my much missed family and friends."
Toyin's father, Dr. J. Ade Odutola, is a chemistry professor at Alabama A&M University, and collaborates with NASA colleagues conducting research. Her mother, Nelene Odutola, is an RN at Huntsville Hospital for Women and Children.
For more information:
Joyce Anderson Maples
256.824.2101
maplesj@uah.edu