UAHuntsville alumnus wins prestigious NOAA award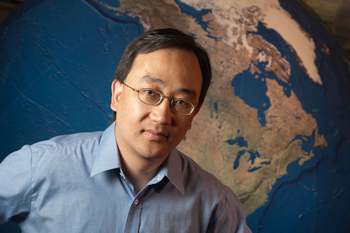 HUNTSVILLE, Ala. (March 12, 2012) – Dr. Jianglong Zhang, a graduate of The University of Alabama in Huntsville, is the 2011 winner of the National Oceanic and Atmospheric Administration David Johnson Award.
This NOAA award is given annually by the National Space Club (NSC) to recognize achievements of young professionals who have shown outstanding innovation in the use of satellite data for operational environmental applications.
Zhang will receive his award during the NSC's annual Robert H. Goddard Memorial Dinner in Washington, D.C. The award citation acknowledges Zhang, "for his pioneering role in the assimilation of satellite-retrieved aerosol data into an operational forecast model; work that has been far-reaching in both operational and climate-forecast modeling communities."
Dr. Zhang earned a master's degree in computer science in 2000 and a doctorate in atmospheric science from UAHuntsville in 2004.
In 2009, Dr. Zhang received the Presidential Early Career Award for Scientists and Engineers (PECASE). The Presidential Award is the highest honor bestowed by the U.S. government on outstanding scientists and engineers beginning their independent careers. Zhang was nominated for the PECASE by the Department of Defense as one of the top 100 young scientists in the United States.
Dr. Zhang is currently an Assistant Professor in the Department of Atmospheric Sciences at the University of North Dakota. He joined UND's faculty in 2007, after working as a visiting scientist at a U.S. Navy research lab in Monterey, CA for three years.
For more information,
contact Chrystal Morgan
256.824.6644
chrystal.morgan@uah.edu