UAHuntsville History professor John Kvach selected as city scholar for NEH grant project on Civil War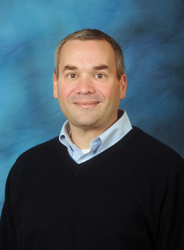 Huntsville, Ala. (March 6, 2012) — Dr. John Kvach, assistant professor of History at The University of Alabama in Huntsville (UAHuntsville), has been selected as a city scholar for a National Endowment for the Humanities (NEH) grant project about the Civil War.
To commemorate the 150th anniversary of the Civil War, the Alabama Humanities Foundation has partnered with Birmingham, Huntsville, Mobile and Montgomery Public Libraries to host the "Making Sense of the American Civil War," reading and discussion series. Each library will host a free, five-part reading and discussion series led by NEH city scholars.
The NEH city scholars program features UAHuntsville's Kvach and a panel of distinguished Alabama historians, including Victoria Ott of Birmingham Southern College; Lonnie Burnett of The University of Mobile; Patience Essah of Auburn University, George Rable of The University of Alabama; and Bob Bradley of the Alabama Department of Archives and History.
Kvach's presentations will be given at the main branch of the Huntsville Public Library at 7 p.m., on the following Thursday evenings at 7 p.m., March 15 and 29, April 12 and 26, and May 10.
Kvach began teaching at UAHuntsville in 2008. He previously taught at The University Tennessee Knoxville, and served as staff historian at the National Museum of Civil War Medicine (Frederick, Md.). Kvach was also employed as a staff historian/archivist at the National Institutes of Health, National Library of Medicine, History of Medicine/Modern Manuscripts Division (Bethesda, Md.).
He received an undergraduate degree in History (English minor) and a graduate degree in History (Public History) from West Virginia University. Kvach earned a Ph.D., in History from The University of Tennessee.
For more information about Kvach's speaking schedule, please call 256.824-2570 or email jk0003@uah.edu.
For more information
Joyce Anderson-Maples,
(256) 824-2101
maplesj@uah.edu