UAHuntsville's Ron Wray to have major article published in prestigious The Clarinet Journal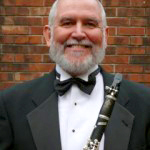 Huntsville, Ala. (February 2, 2012) — The International Clarinet Association has selected a composition written for bass clarinet and piano by University of Alabama in Huntsville's (UAHuntsville) Ron Wray, for publication in an upcoming issue of The Clarinet Journal.
Wray is an associate professor of music at UAHuntsville, where he serves as music theory and clarinet instructor. On highlighting Wray's article, Eric Mandat, of the International Clarinet Association (ICA) said, "With 1000 plus members in the ICA, we hope, through this article, to be able to bring your work to the attention of clarinetists worldwide, thus helping to increase performance opportunities for your work. On behalf of the other committee members (Michael Norsworthy and Gregory Oakes), I want to thank you for your excellent work." Mandat is composition competition coordinator with ICA, and is internationally known for his groundbreaking contributions to contemporary clarinet music.
Ron Wray began his tenure at the university in 2001. Prior to coming to UAHuntsville, he served as associate professor of music at Dickinson State University (DSU) in Dickinson, ND. During his six-year tenure at DSU, he served as the coordinator of the Northern Plains Music Festival, president of the Faculty Senate, and on numerous boards and councils. Wray was also awarded the Outstanding Teacher of the Year award.
He received his undergraduate and master of music degree from Louisiana State University (LSU). Wray also holds a doctor of music in Clarinet Performance from LSU. Additionally, he has also served on the faculty of Southern Arkansas University where he was the associate director of bands.
Wray is active as a clinician, adjudicator, and performs as a soloist and as a chamber musician.