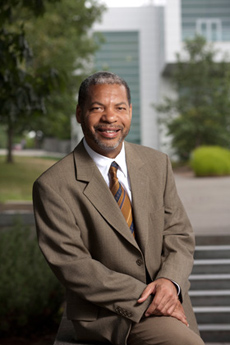 HUNTSVILLE, Ala. (September 23, 2013) - The College of Engineering at The University of Alabama in Huntsville (UAH) invites you to a special lecture by Dr. Lance Collins, the Joseph Silbert Dean of Engineering at Cornell University.
The presentation, entitled "The New York City Applied Sciences Initiative - A Unique Public-Private-Academic Partnership for Economic Development," will take place on Friday, Sept. 27, at 9:30 a.m. in Room 301 of the Shelby Center for Science and Technology.
Dr. Collins will be discussing a 2010 initiative by the city of New York to relieve its tech sector bottleneck through a yearlong competition to increase the supply of tech talent. The prize? A "land grant" and $100 million to the winning universities, which would then be responsible for building and operating a new campus on the land dedicated to innovation and commercialization in the tech sector.
The competition ultimately culminated in the naming of three new technology focused campuses: Cornell NYC Tech in partnership with the Technion on Roosevelt Island; New York University Center for Urban Science and Progress in downtown Brooklyn; and Columbia University Institute for Data Sciences in Manhattan. As part of the presentation, Dr. Collins will give an update on Cornell NYC Tech today and where it is expected to be 10, 20, and 30 years from now.
In attendance will be Huntsville Mayor Tommy Battle, in addition to other city officials. Admission is free and the presentation is open to the public, but those interested are encouraged to RSVP with Annie Harris, Executive Secretary of the College of Engineering, by 12 p.m. on Sept. 26 (contact information below).



***
Dr. Lance Collins is the Joseph Silbert Dean of Engineering at Cornell University. Named dean in 2010, Collins joined Cornell in 2002 as a member of the Mechanical and Aerospace Engineering faculty following 11 years on the chemical engineering faculty at Pennsylvania State University. His research combines simulation and theory to study a variety of turbulent flow processes. He earned his B.S.E. at Princeton University, and his M.S. and his Ph.D. at the University of Pennsylvania, all in chemical engineering.
For more information, contact:
Annie Harris
256.824.3590
harrisa@uah.edu

OR

Diana LaChance
256.824.6878
diana.lachance@uah.edu
---
You may also be interested in: