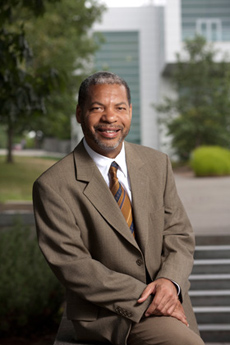 HUNTSVILLE, Ala. (September 23, 2013) - Lance R. Collins, dean of the College of Engineering at Cornell University, will be the guest speaker for two public lectures at The University of Alabama in Huntsville (UAH) on Friday, September 27.
Professor Collins' visit to the university is a joint College of Engineering and UAH Distinguished Seminar event. Both talks are free and open to the public.
The first presentation entitled "The New York CityApplied Sciences Initiative - A Unique Public-Private-Academic Partnership for Economic Development," will begin at 9:30 a.m., in the Shelby Center for Science and Technology (room 301). Collins will discuss a 2010 initiative by the city of New York to relieve its tech sector bottleneck through a yearlong competition to increase the supply of tech talent. Attending the presentation will be Huntsville Mayor Tommy Battle, leaders from private industry and other city officials.
Collins' second UAH event, a research lecture entitled "Role of Turbulence in the Atmospheric Processing of Clouds," will begin at 2 p.m., in Technology Hall S-105. Collins is the Joseph Silbert Dean of Engineering at Cornell University (CU). He previously served as the S. C. Thomas Sze Director of the Sibley School of Mechanical and Aerospace Engineering at CU from 2005-2010, and he was Director of Graduate Studies for Aerospace Engineering 2003-2005.
Collins joined CU in 2002, following 11 years as assistant professor, associate professor and professor of Chemical Engineering at Pennsylvania State University. From 1999 until his departure, he also held a joint appointment in the Mechanical and Nuclear Engineering Department at Penn State. In 1998, Collins was a visiting scientist at the Laboratoire de Combustion et Systémes Réactifs (a National Center for Scientific Research laboratory in Orleans, France) and at Los Alamos National Laboratory.
His research combines simulation and theory to investigate a broad range of turbulent flow processes, including complex fluids and polymers, computational fluid dynamics, energy and sustainable development, multiphase and granular flows and turbulence.
He earned a bachelor of science degree in chemical engineering from Princeton University. Collins was awarded a master's of science degree, and a Ph.D., in chemical engineering from The University of Pennsylvania.
For more information about Professor Collins' visit to UAH, please call the College of Engineering at 256.824.6474
For more information, contact:
Joyce Anderson-Maples
256.824.2101
maplesj@uah.edu
---
You may also be interested in: