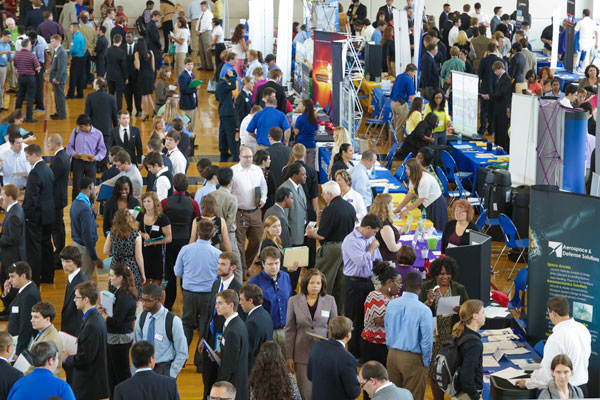 HUNTSVILLE, Ala. (September 20, 2013) - Each semester, the Student Success Center (SSC) at The University of Alabama in Huntsville (UAH) hosts a Career Fair with the goal of bringing students and employers together for networking, internship and co-op opportunities, and employment. But last week's event, held Sept. 12 from 10 a.m. to 2 p.m. at UAH's Fitness Center, exceeded all expectations.
"We had 755 students and 155 alumni, which is a 35% increase in student attendance from last fall," says Alan Constant, Director of the SSC. "We also had 110 employers, thanks to a lot of work by the SSC's career team to build employer relations."
But as impressive as those numbers are, it's ultimately about the "quality of the interactions," he continues. "I see the Career Fair as an excellent opportunity to network and learn, both from our students' perspective, and from our employers' perspective."
That's why the SSC places special emphasis on preparing the students for the event, offering workshops, a resume blitz, and mock interviews in the week leading up to Career Fair. "We want them to understand how necessary it is for that first connection with an employer to be positive," says Kellee Crawford, Career Programs Manager.
And while some students don't take advantage of the SSC's free services, for the ones who do, it makes a noticeable difference. "A lot of our employers are impressed by our students' professionalism and their level of education," she says. "They say they can always count on UAH to have the most well-prepared, well-educated students."
Does that lead to jobs? In many cases, yes. On the day after Career Fair, known as Interview Day, many employers interview candidates for both full-time openings and experiential learning positions. And this semester, says Crawford, many of those interview offers resulted from interactions at the event itself.
"What we saw this time is that a lot of employers are choosing to meet students first and then set their interview schedule, rather than preselecting from online resume postings," she says. "They prefer to get to know the candidates initially, then if they make a good connection, the employer can invite them for an interview."
Fortunately, UAH's next crop of job seekers has a good four months to prepare for the SSC's next Career Fair, scheduled for Thursday, Jan. 30 - and to work on their first impressions. And if they need help, they know where to go.
...Rapid Gallery Loading...
---
You may also be interested in: