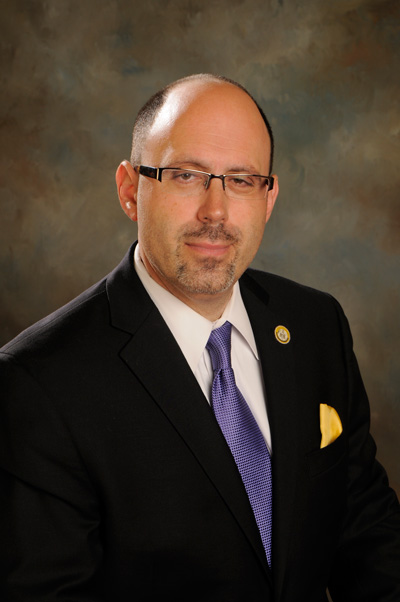 HUNTSVILLE, Ala. (September 16, 2013) - Derek Greenfield, internationally renowned diversity expert and motivational speaker will be the keynote speaker for the annual University of Alabama in Huntsville (UAH) Diversity Workshop and Forum next month.
Greenfield will give two talks on Thursday, October 24. His visit is sponsored by the UAH Offices of Diversity and Multicultural Affairs. The talks are free and open to the public. Registration for UAH's Diversity Workshop and Forum is encouraged. To reserve a seat please visit: oma@uah.edu or call 256.824.2333.
The workshop "What's the Big D.E.A.L? Be Different, Be Educated, Be Aware, and Be a Leader for Inclusion," is from 9 a.m., to 12:15 p.m. And, at 7:30 p.m., Greenfield will conduct the Diversity Forum "Today is the First Day of the Rest of Your Life: Believe and Achieve." Both events will be held in the UAH University Center Exhibit Hall.
Greenfield is director of Educational Equity and Inclusion/Title IX administrator and professor of Sociology at Alcorn State University, an HBCU (Historically Black College and University) in Lorman, Mississippi.
He has spent most of his life working in underserved communities across the country, and at HBCU's, directly engaging his audience with discussions on cultural diversity, inclusion, motivation, team building, hip-hop culture and leadership skills.
"Hopefully, the sessions that I conduct at UAH will offer an innovative approach for celebrating diversity and inclusion that generates new insights, engages participants in dynamic dialogue that builds alliances, and encourages us to grow together," he said. "Through a wide range of experiential activities which will be enjoyable and educational, members of the UAH family will walk away inspired and motivated to continue making a positive difference."
Greenfield is extremely proud of the strides Alcorn has made in creating and sustaining an inclusive campus climate. "We were the first historically Black college and only school in Mississippi to win the prestigious Higher Education Excellence in Diversity award from Insight Into Diversity Magazine. The work of our Office of Educational Equity and Inclusion was featured in a Huffington Post feature story entitled, Diversity at HBCUs: How Alcorn State is Leading the Charge," Greenfield noted.
He is adamant that the work of diversity and inclusion is not simply about a moment, but rather, a movement. He goes even further, saying, "One workshop doesn't solve everything - hopefully, it can be a springboard to infusing the principles of multiculturalism in all aspects of our lives so that we're always thinking about how we can respect and include everyone equally in order to make diversity and excellence synonymous. Once people encounter positive diversity experiences and see concrete evidence that inclusion significantly benefits their lives, they are far more likely to become allies in this movement."
Greenfield promises the UAH sessions will be exciting, high energy, fun, powerful, and life changing. "We want everyone who cares about taking UAH to the next level to be there and to experience true community. I can't give away all my secrets early …. you'll just have to see it for yourself!"
He earned his master's degree from Northwestern University and his PhD from Cape Peninsula University of Technology in South Africa. His passion is specifically seen in his work to develop, direct, and sponsor youth programs in the townships of South Africa. Greenfield has also authored the acclaimed motivational book, The Answer Is In Your Hands, and has worked as a consultant for McDonald's Corporation, Hilton Hotels, United Airlines, and the National Basketball Association's Milwaukee Bucks. He is also a proud member of Kappa Alpha Psi Fraternity, Inc.
For more information, contact:
Joyce Anderson-Maples
(256) 824.2101
maplesj@uah.edu
---
You may also be interested in: