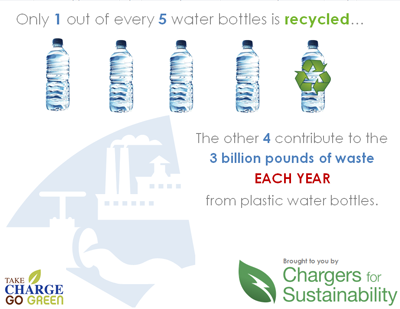 HUNTSVILLE, Ala. (September 10, 2013) - The University of Alabama in Huntsville (UAH) is joining a national campaign called Ban the Bottle to reduce reliance on bottled water, and with very good reason:
Bottled water is less sustainable and less regulated in many cases than tap water.
Bottled water costs about 2,000 times more than tap water.
Bottled water uses enough oil during production each year to fuel a million cars.
Most plastic water bottles end up in landfills.
To that end, 9 new hydration stations will soon be installed in buildings across campus to offer filtered tap water as an alternative to bottled water. These include the Shelby Center, Salmon Library, Spragins Hall, Business Administration Building, Morton Hall, Material Science Building, Technology Hall, Engineering Building, Wilson Hall, University Center, and the Charger Union.
And to sweeten the deal, Chargers for Sustainability will also be tabling and passing out free reusable water bottles to UAH students to encourage them to opt for tap water. There are four dates to choose from:
| | | | |
| --- | --- | --- | --- |
| September 16th | September 18th | September 19th | September 19th |
| Shelby Center | University Center | University Center | Morton Hall |
| 9 - 11AM | 12:30 - 2:30PM | 11AM - 2PM | 2:30 - 5PM |
So ditch disposable! Join the national movement and sign your pledge to "Think Outside the Bottle."
---
You may also be interested in: