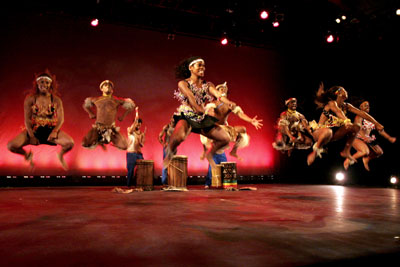 HUNTSVILLE, Ala. (September 2, 2013) - The University of Alabama in Huntsville (UAH) will host the fourth annual International Festival (iFest), Saturday September 28, from 10 a.m., to 5 p.m., at Spragins Hall.
The event is co-hosted by the International Society of Huntsville and is open to the public with no admission charge. Spragins Hall is located at 1070 Ben Graves Drive N.W., on the UAH campus. UAH coordinator of iFest is Belinda Ong, director of Reference and Information Services at the UAH Louis Salmon Library, and president of the International Society of Huntsville.
The one-day, family friendly event features cultural performances, the parade of nations and tasting of international foods $5 per plate, beginning at 11:30 a.m. There will be free activities for children and college students, and a free international dessert sampling. Additional activities include global performances including folk dances and performance of traditional instrumentals to ethnic songs and an around the world fashion show.
Step Afrika!, a nationally acclaimed Washington-based "percussive dance troupe" are the featured guest performers this year, sponsored by the UAH Office of Student Affairs. Step Afrika! will perform exclusively for the UAH community on Friday, September 27. The group will give a public performance during iFest on Saturday, September 28.

Additional iFest highlights include:
International foods ($5 per plate begins at 11:30 a.m.), savor such delights as Bœuf Bourguignon (France); Bulgogi (Korea); Tofu Pad Thai (Thailand); Satay Ayam (Malaysia); and Mupunga une Dovi (Zimbabwe)
Gymnasium area: International dessert/snack samplings from many of the participating nations at 2 p.m. Desserts include Chrusciki (angel wing cookies), Strudel Jabłkowy (apple strudel), Sernik (cheesecake),and Oranżada (citrus soft drink)-Poland; Tiramisu & Espresso-Italy; Baklava-Turkey and Palestine; Anzak Biscuits (rolled oat/coconut cookies)-Australia; Zoolbia (crunchy Persian pastries) and Iranian tea-Iran; Biscochitos (sugar and cinnamon wedding cookies)-Mexico; and Trung Nguyên (deep-roast, heirloom coffee)-Vietnam
Global performances, from folk dance and traditional instrumentals to ethnic song and martial arts. Performing will be Fitness Arts Center Irish Dancers (traditional step dancing); The Little German Band (waltz/polka/military/march music from Austria and Germany); Center for Kuchipudi Art (classical dance from State of Andhra Pradesh, India); the UAH Salsa Club (Latin American dance); and Heidi Kaeding Ehru (Chinese three-stringed Instrument performance)
Free, hands-on children's activities: making boomerangs (Australia) to creating flowers with Caribbean flag "petals" (Caribbean Islands), crafting crowns (British Isles), and a chance to write your name in Greek (Greece) and/or Kiss the Blarney Stone (Ireland)
All day, gymnasium area: Transnational table displays featuring cultural artifacts, flags, travel and historic literature, handicrafts, native apparel, maps, educational videos, and much more
All day, front sidewalk area: cutout (a.k.a. "Stand-In" or "Character Stand") lineup in traditional clothing, great photo opportunity
Additional sponsors for iFest include the UAH Office of Student Affairs, Office of Diversity, Office of Advancement, Student Government Association, Louis Salmon Library, Chinese Students and Scholars Association, and the Indian Studentorganization. For more information, please contactBelinda.Ong@uah.edu or visit: www.internationalsocietyofhuntsville.org
For more information, contact:
Joyce Anderson-Maples
(256) 824.2101
maplesj@uah.edu
---
You may also be interested in: