HUNTSVILLE, Ala. (August 6, 2013) - The University of Alabama in Huntsville (UAH) offers its students an impressive selection of experiential learning programs, from internships and co-ops to semesters spent studying abroad. It's all part of a larger effort to provide them with hands-on experience and the opportunity to apply the skills they've learned in the classroom to real-world challenges.
But recently, a group of music majors decided to enact their own experiential learning program. After completing the Music Department's Advanced Conducting class this past semester, they formed the Summer Wind Band. And at the end of a summer packed with rehearsals, the ensemble performed their first concert complete with student conductors.
Dr. David Ragsdale, chair of UAH's Music Department and instructor of the Advanced Conducting class, says the endeavor was "extremely rewarding" for him as a professor. "I am touched and inspired by their dedication to music," he says.
Even more, he's happy that they have discovered the "profoundly powerful combination of curiosity and passion." And that, he says, is "exactly what these students have done in carrying a class project out of the laboratory and transforming it into a living, artistic entity."
Like many good ideas, this one began during a dinnertime get-together one evening. "We were all sitting around and we thought it would be great to have a group like this to play with over the summer, to keep up our skills," says Dillon Tuck, a rising junior and native of Capshaw, Ala.
But the group faced a major challenge: finding people who were planning to stay in Huntsville over the summer who could not only play the instruments needed, but who could also attend a rigorous twice-a-week rehearsal schedule. With a dozen or so people from the class already enlisted, that left them with another dozen seats to fill.
So the group reached out to the community. Some were friends or family of current members; some were vocal majors at UAH who could also play an instrument. Others were local high school students. And a handful, like Curtis Lindsay, were alumni.
Lindsay graduated from UAH in 2011 with a liberal arts degree in music and has since stayed in Huntsville to work as a composer. So his was one of the first names to come up when the group began thinking about what music they wanted to play at their end-of-summer concert.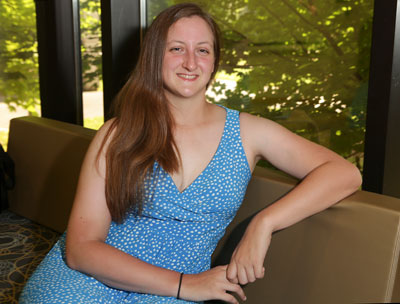 "Some of the students wanted to tackle newer music that would present its own fun challenges for everyone," says ensemble member and clarinetist Melissa Jones. "Then one of us suggested contacting Curtis Lindsay, a very fine composer and dear friend to many of us, about playing some of his music."
Lindsay, as it turns out, was more than happy to help. "I was excited that these guys were going to continue the work they did in the spring over the summer, as a community band group," he says. But instead of letting them use an older piece of his, he offered to write a new one.
"We composers always jump at that opportunity!" he says with a laugh. The result was "Fall Creek," a 10-minute rhythmically driven piece with a large percussion and keyboard section that came to him over the course of a few weeks.
"I'm sort of a walker and a singer, so an idea will spontaneously come into my head and I take it and see how far it can go, see if it has baby ideas," says Lindsay of his process. "Hopefully you get a happy family you string together, and hopefully that works!"
Such was the case with "Fall Creek," he says. But like all pieces, it still required a little tinkering once it came time to rehearse it. "Most composers, we see how rehearsals go and make the adjustments," he explains.
One of the parts, for example, had to be reevaluated all together. "Harpists don't grow on trees, so that was one thing that had to be redone!" says Lindsay. Others had to be altered slightly to account for the strengths - and weaknesses - of the people performing them.
"In the general sense I try to write up to the standards of the most talented people I know have," says Lindsay. "But on another level I do know a lot of the people in the ensemble, and if I know the sax player's G sharp doesn't work, the piece doesn't have a G sharp."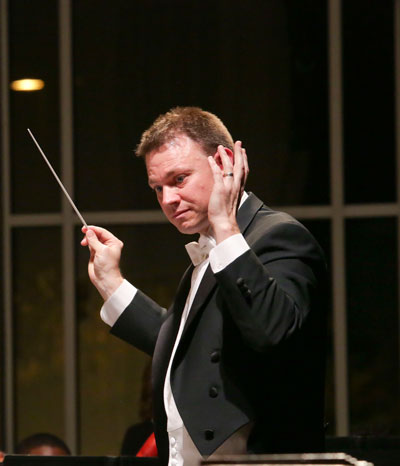 As for the instrumentalists, they had more than just Lindsay's piece to learn. The group selected an additional three to play at the concert: Paul Hindemith's "March" from Symphonic Metamorphosis, Gustav Holst's First Suite in E Flat, and Eric Whitacre's "October."
Each of these was to be conducted by a group member. "It was actually whoever wanted to conduct," says Tuck, of how they were chosen. "I wanted to do it because it's something I enjoyed doing last semester. And I'm a music education major, so it's something I will have to do on a regular basis."
And just what does a conductor do? "The conductor is responsible for bringing everyone together and providing a voice," says Tuck. "And a lot of times there are different parts playing the same line at the same time, so you have to pick out who's important."
He - or she - also sets the tone. "Physically, the conductor can communicate the mood of the piece to the performers," says percussionist and pianist Nick Zollo, a rising senior from Woodbridge, Va. That's because the conductor has a unique perspective that none of the players themselves have.
"As a performer, you're so focused on your own part that sometimes you miss everything else," he continues. "But as the conductor, who is standing where they can hear everything, they can hear what's more important than your part."
Fortunately, the group's members had a great conducting teacher in Dr. Ragsdale. "By watching him, we got an idea of what works - and what doesn't," says Zollo. "Because you never know what a musician is going to do until you conduct them. Occasionally there can be problems and the conductor will have to try something differently."
These students [are] carrying a class project out of the laboratory and transforming it into a living, artistic entity.
Dr. David Ragsdale
Chair, UAH Music Department
But no matter what happens, as we all know, the show must go on. And go on it did. On July 20th, the first-ever Summer Wind Band Concert was held in UAH's Roberts Recital Hall and was, according to Jones, "very well attended."
"We were all stunned - people had co-workers and classmates from other departments coming to see us. My yoga teacher was there!" she says. "I think it just speaks to how hungry our community and our campus are for great art, and music in particular. I wish we could do it again, and I think if we find that we can, we certainly will."
Of course, with Week of Welcome just around the corner, there's no guarantee that the ensemble will be able to carry on rehearsing, let alone have another concert. "It would be hard to continue this with people's schedules filling up once classes start," says Tuck.
But even if their first concert ends up being their last, he says, they have at least achieved a few important goals: they've gained experience as performers and conductors, they've showcased their talents in a real-world setting, and they've shared their passion - and perhaps inspired - the greater community.
"We wanted to say, 'Hey, look what we're doing over here at UAH'," says Tuck, "and encourage new students to get to know us or even other people to go back and tell their friends they might want to check out UAH."
After all, it's not every school where the students are learning just as much outside the classroom as they are within.
---
You may also be interested in: