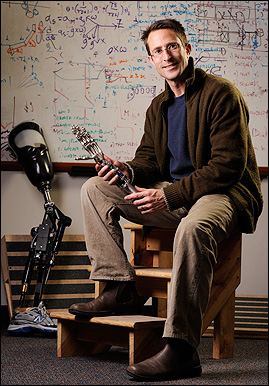 Huntsville, Ala. (July 22, 2013) - The Osher Lifelong Learning Institute (OLLI ) at The University of Alabama in Huntsville (UAH) is celebrating 20 years of service through learning, leadership and community service with a speakers series. OLLI is offered through the Division of Professional and Continuing Studies.
Dr. Michael Goldfarb, director of the Center for Intelligent Mechatronics at Vanderbilt University, will lead the first scheduled seminar on Thursday, August 15, at 4 p.m. OLLI membership is $15 per year and non-members are invited to join. For more information, please call 256.824.6183 or visit: www.PCS.uah.edu/WeeklyBonus.
Technological advances are providing amazing real-world innovations in the area of rehabilitation robotics for people with physical disabilities. Dr. Goldfarb has dedicated his career to the development of intelligent assistive devices for people with physical disabilities.
During his talk, Dr. Goldfarb will examine the latest developments of robotic limbs for extremity amputees and the development of exoskeletons for individuals with spinal cord injury and stroke. "Within the next one to three years, 'bionic' prosthetic devices will be available that are substantially smarter, more capable, more active, and more interactive than those that are currently on the market," said Goldfarb.
OLLI offers a unique opportunity for adults 50 and over to select from a wide variety of noncredit classes, discussions, social events, and travel specifically designed to fit their lifestyle and interests.
Other OLLI membership benefits include discounted membership in the UAH Louis Salmon Library and fitness center, weekly e-news, The OLLI Insider (10 issues each year), free Wednesday Bonus classes, invitations to on-campus cultural and athletic events, and DVD lending library-all included in your $15 membership fee!
The next OLLI Speakers Series seminar will be in November.
For more information, contact:
Joyce Anderson-Maples (256) 824.2101
maplesj@uah.edu
---
You may also be interested in: