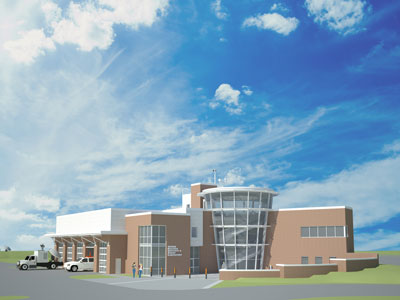 HUNTSVILLE, Ala. (July 15, 2013) – The University of Alabama in Huntsville (UAH) broke ground Monday on a new $7 million Severe Weather Institute – Radar and Lightning Laboratories (SWIRLL) to grow its education and research capabilities into severe weather and atmospheric science.
The structure is being built through a state grant made possible by the efforts of Gov. Robert Bentley.
"This is the fulfillment of another recommendation of the Tornado Recovery Action Council," Gov. Bentley said. "Alabama is no stranger to severe weather and it is important that we take proactive steps to protect and prepare for natural disasters. The establishment of this severe weather research institute at The University of Alabama in Huntsville will allow us to better prepare for severe weather through improved forecasting and detection. While it is not within our power to prevent severe weather, we still must search for methods to mitigate the impact."
UAH President Robert Altenkirch noted that UAH's Earth System Science Center (ESSC) is one of the university's largest centers of research and is ranked among the top 10 in the nation in research activity, according to the National Science Foundation. The Atmospheric Science Department is also cited as being among the top 10 in the nation by the Chronicle of Higher Education based on scholarly productivity.
"Atmospheric science is one of those areas where UAH demonstrates national leadership in education and research," Altenkirch said. "This is an area of our campus that has also been identified in our new strategic plan where we envision continued growth. This investment by Alabama will allow our campus to continue to expand this important program and provide quality research to help protect our citizens as well as produce graduates for the local workforce. We thank Gov. Bentley for his support of research and education."
The establishment of this severe weather research institute at The University of Alabama in Huntsville will allow us to better prepare for severe weather through improved forecasting and detection.
Gov. Robert Bentley
SWIRLL builds on UAH's expanding reputation for severe weather and radar expertise through the UAH Department of Atmospheric Science, ESSC, the National Weather Service forecasting office, the NASA Earth Science research team and the Office of the Alabama State Climatologist. The building is designed to reflect its mission.
"From the outside, the conical glass entrance, with its visible spiral staircase inside, mimics a tornado," said Dr. John Christy, Alabama state climatologist and director of the UAH ESSC. "When someone sees this building there will be no doubt that it houses researchers who study severe weather."
A five-foot diameter globe will be mounted in the center of the lobby's staircase to serve as a dazzling teaching tool. The globe is a mini-theater on which will be projected images of the Earth as if the viewer were in space looking upon it. The globe will depict real-time weather patterns, rainfall, snow and ice, earthquakes, vegetation, lightning, drifting continents and more. It can even display the sky at night.
Inside the SWIRLL facility, one main research group will study all types of severe weather and the other will investigate lightning. Both groups will build and test experimental sensors to better detect severe weather or lightning and understand the precursors of the events. They will deploy these instruments in planned and spontaneous programs to field-test the equipment and gather data.
Dr. Kevin Knupp, a professor of atmospheric science who is the originator of the SWIRLL acronym, leads much of the UAH severe weather research into those types of weather that damage infrastructure such as tornadoes, hurricanes and strong thunderstorm winds. Dr. Hugh Christian, a principal research scientist with the ESSC, leads the UAH lightning group, which has been the world leader in detecting lightning from space. He led in the design, construction and operation of these space-based instruments as well in the follow-on scientific analysis of the data they observed.
"With the computing power we have, they will analyze the many observational datasets to learn why events happen as they do," said Dr. Christy. "This then leads to earlier and better predictions."
The SWIRLL facility will house:
A severe weather research campaign center to enable command-and-control direction of deployed mobile research assets in the midst of severe weather events;
A conference room facility for research, graduate education, operational planning meetings for field campaigns, public outreach and media coverage;
Office space and sustaining engineering labs for fabrication, maintenance and storage of mobile weather research instrumentation, including the MAX, M3V, and MIPS mobile research units;
Development lab space for work on weather instruments, electronics and computers.
"An important aspect of SWIRLL is that it is situated in the humid Southeast, a place with unique and challenging research issues because our severe weather is not like that of the Plains, where so much attention is directed," Dr. Christy said. "Our severe weather can be obscured by low cloudiness, rain shafts that hide tornadoes, rolling and forested hills that prevent visual detection and in a humid environment, many events occur at night. It is therefore so important to build instruments that can detect and warn the public when visual capability is lost."
Alabama, with a higher population density than the Plains combined with the difficulties of detection in the humid environment, has experienced considerable damage and loss of life from tornado outbreaks in such years as 1932, 1974 and 2011. Alabama ranks sixth nationally in the number of persons struck by lightning, according to the National Oceanic and Atmospheric Administration.
"One point is clear," said Dr. Christy. "The state has made a significant investment in understanding some of the most serious threats that its residents face."
For more information please contact:
Dr. John Christy
christy@nsstc.uah.edu
256-961-7763
OR
Dr. Kevin Knupp
kevin.knupp@uah.edu
256 961 7762
OR
---
You may also be interested in: