UAH visiting scholar examines the challenges universities face in commercializing technology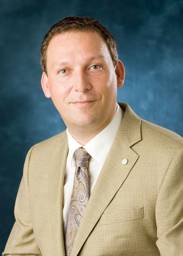 Huntsville, Ala. (May 20, 2013) — Thomas H. Zurbuchen, a nationally recognized researcher in space science and aerospace engineering, will lecture at The University of Alabama in Huntsville (UAH) on Tuesday, May 21.
Zurbuchen's talk entitled "The Entrepreneurial Frontier of University Research," will be presented at 4 p.m., in the Chan Auditorium (located in the Business Administration Building). The seminar is sponsored by the UAH College of Science and is free and open to the public.
Zurbuchen, is professor and associate dean for Entrepreneurial Programs, in the College of Engineering, at The University of Michigan (UM). He is responsible for leading, developing and coordinating entrepreneurial programs including academic and research support programs to put the university's innovations to work.
"Thomas is remarkable in that he is both a world class space scientist and an entrepreneur. He's both a Michigan faculty member and CEO of his own consulting company. So, he's unusually well positioned to talk about universities and entrepreneurship. Thomas is also a very insightful guy and I'm looking forward to what he has to say," said Dr. Jack Fix, professor and dean of the UAH College of Science.
During the UAH lecture, Zurbuchen will discuss the challenges research universities face today in translating their research results into entrepreneurial value. Additionally, his talk will aid researchers in educating talent to understand how to perform new and fundamental research, and also how to translate research into existing and new businesses. His presentation will also include examples for translation and training programs built around research at UM, emphasizing research in design and manufacturing.
Zurbuchen is the founding director of the Center for Entrepreneurship. Under his direction, the center has rapidly grown in visibility and impact across the entire student body. Center activities include strengthening academic curricula in entrepreneurship, venture acceleration, and outreach to the broader entrepreneurial community. All key center activities are performed in partnership with students and, in particular, by the student organization MPowered Entrepreneurship.
Zurbuchen holds a PhD in astrophysics from the University of Bern, Switzerland and was a recipient of a Swiss National Science Foundation award before coming to the University of Michigan in 1998. Since then, he has received numerous awards, including the prestigious U.S. Presidential Early Career Award, which represents the highest honor bestowed by the U.S. government on scientists and engineers beginning their independent careers.
A specialist in the robotic exploration of space, Zurbuchen served as team leader for the development of NASA's Fast Imaging Plasma Spectrometer, an instrument aboard the MESSENGER spacecraft. He team also leads analysis and operation of six other space instruments currently in flight.
Zurbuchen is the president of a consulting company, Z Transform, LLC, which specializes in the quantitative analysis of space systems.
For more information contact:
Joyce Anderson-Maples, 256.824.2101
maplesj@uah.edu
---
You may also be interested in: