Drinking Water Festival teaches fourth-graders importance of groundwater
HUNTSVILLE, Ala. (May 30, 2013) - The University of Alabama in Huntsville (UAH) is the site of many festivals, like the New Music Festival, the Russian/Eastern European Pancake Festival, the Chinese Traditional Spring Festival, and the International Festival. But did you know it also hosts the Madison County Drinking Water Festival?
Now in its 16th year, the Drinking Water Festival educates fourth-grade students about where our water comes from and how to keep it clean, said festival coordinator and Madison County Commission employee Shannon Isbill.
The two-day event is organized by a festival advisory committee comprising local, state, and federal organizations and is funded by primarily local sponsors like UAH, Boeing, AMTEC, Huntsville Utilities, among others. This year's festival, whose theme was "Hydro Heroes," took place on May 14 th and 15th at the Shelby Center.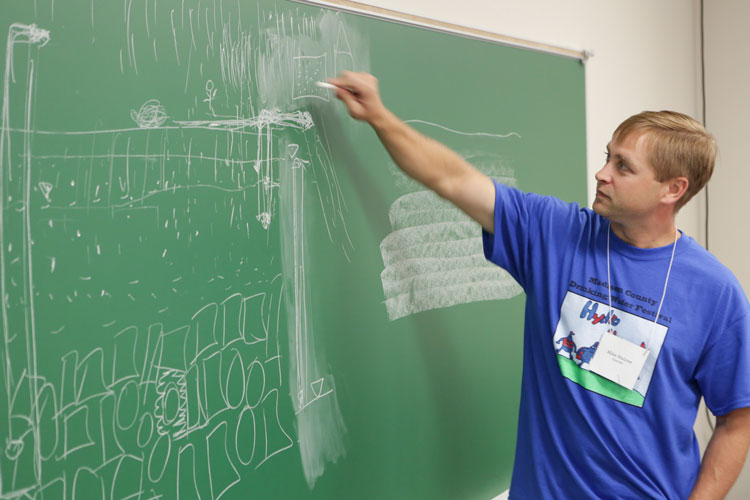 Michael Mercier | UAH
Mike Malires, project manager with local contractor Garver, presents the Well in a Cup activity.
More than 900 fourth-graders attended, all of whom sported Hydro Heroes t-shirts designed by fellow student and contest winner Horatio Hernandez of Madison Cross Roads Elementary School. Each participated in three of six water-related activities: Filtration, Well in a Cup, Watershed in a Box, Wetland Metaphors, Water Wheels, and Cave Shrimp.
Mike Malires, a project manager with Garver and four-year festival volunteer, presented the Well in a Cup activity, which teaches students about groundwater contamination. "The most common answer youngsters give when asked where our drinking water comes from is the sewer!" he said with a laugh. "So this teaches them that 95-96% of our water comes from groundwater."
As part of the festival, students also toured the Alabama Cooperative Extension System's mobile water conservation lab, WaterWheels, which was on-site to display its rainwater collection system replica. "We taught them about how to hook a toilet up to a rainwater tank," said WaterWheels coordinator Rhonda Britton, whose own home rainwater collection system saves her over 1000 gallons a month.
But it was the show's annual closer - "rocking eco-hero" and comedian Steve Trash - that really captured the kids' attention. Using a combination of science, magic, jokes, and site gags, Trash delivered a riveting, almost subliminal, environmental education to his rapt audience.
And that, in the end, is what the festival was all about. Not lecturing fourth-graders on the importance of water conservation from the front of a class, but fostering a deeper understanding outside the classroom through hands-on activities - and maybe even a little magic.
Photos:
...Rapid Gallery Loading...
---
You may also be interested in: