Pre-health program offers competitive edge to aspiring healthcare professionals
Courtesy Photo
Dana Parcher, Pre-Health Advisor.
HUNTSVILLE, Ala. (April 25, 2013) - Dana Parcher, Pre-Health Advisor at The University of Alabama in Huntsville (UAH), has an important job: helping students with their dreams of getting accepted into and becoming healthcare practitioners.
"Finding a career can be a daunting task, but then finding one with an arduous application process along with it may feel overwhelming," she said. "So I guide them from 'I don't know what I want to do' to 'I know what I want to do and I'm applying tomorrow'."
That can include helping students with their personal statements and resumes, providing them with interviewing techniques, giving one-on-one advising, and holding group workshops.
Parcher also works with each student's Academic Advisor to ensure they are on course to graduate from UAH. "It's definitely a partnership because they assist students more directly with the details of pre-requisites of courses and ensure students are on path to graduate from UAH."
After all, not all students who are Pre-Health are science majors. "The majority are," said Parcher, "but all professional schools accept any major as long as the student meets the school's pre-requisites. So I encourage students to choose whatever major they want because it will only assist their interests and overall GPA."
Parcher said she starts each year with about 250 first-year students. That group then narrows over time to about to about fifty to sixty students who seriously consider applying in the fields of medical, dental, veterinary, physical therapy, physician assistant, pharmacy, and public health. And of these, several opt to go through UAH's committee process.
"The students come to me to build their file, and then as juniors or seniors, they interview in front of a committee of faculty, staff, and community health professionals," she said. "Based on this process, the committee sends a letter of recommendation to the school, which holds a lot of weight."
Case in point: graduating senior Xavier Baldwin, who will be attending medical school in the fall after successfully navigating the committee board process. Parcher said she assisted Baldwin by "proofing and critiquing his personal statement, assisting him with his resume, conducting multiple mock interviews, and helping him, if needed, through the application process."
And he isn't the only one. To name just a few, Baldwin's fellow seniors Carmilla Massengale, Michael Anderson, and Nadia Araiinejad will all be starting physical therapy school in the fall, while Adham Khazendar will be attending pharmacy school.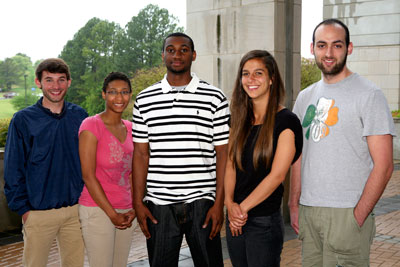 Michael Mercier | UAHuntsville
Brenton Anderson, Carmilla Massengale, Xavier Baldwin, Nadia Araiinejad and Zachary Burton will benefit from their success in the College of Science as they move on to graduate school.
I guide them from 'I don't know what I want to do' to 'I know what I want to do and I'm applying tomorrow'.
Dana Parcher
Pre-Health Advisor
It's those kinds of victories that keep a sometimes-overwhelmed Parcher focused on the goal. And yet despite the challenges she faces being the one and only Pre-Health Advisor on campus - not just for current students, but for nontraditional ones and alumni as well - she doesn't hesitate to give full credit to the students themselves.
"They do all the hard work," she said. "I just aim to be one of their biggest coaches and cheerleaders!"
---
You may also be interested in: