UAHuntsville hosts POL regional competition

HUNTSVILLE, Ala. (December 8, 2011) -The University of Alabama in Huntsville (UAHuntsville) recently hosted the Region V Poetry Out Loud recitation competition.

The UAHuntsville Department of English has sponsored Poetry Out Loud (POL) competitions since 2008. Dr. Rose Norman, emeritus professor of English at UAHuntsville, and Shannon Graham a graduate student serve as coordinators for the event.
More than 3,600 students, grades 9-12, from ten schools participated this year, sending a total of 19 students to the POL regional competition held at UAHuntsville on November 18.
The top five students in the two Alabama Region V competitions will advance to the state POL competition on February 20 at the Alabama Shakespeare Festival in Montgomery. There they will compete with finalists from the other Alabama regions to see who will represent Alabama at the national competition in Washington, D.C., in May.
This year's first place anthology winner was Nicholas Mecikalski, a senior at Bob Jones High. Mecikalski is President of the National Honor Society, a member of Advanced Production Drama, Mu Alpha Theta, and the Science National Honor Society. He also writes for the HT page of The Huntsville Times. He says that his "participation in various forms of theatre since third grade has helped me break out of my shell and be able to express myself with confidence."
This is the third year that a Bob Jones High student has won first place for Region V anthology recitation. Mecikalski's teacher is Brandy Panagos.
Victoria (Tori) Weeks, a junior at Austin High in Decatur, won first place in the Original Poetry competition for her poem "The Thrift Store on Grissom Avenue." Tori is band manager and a member of the Thespian Club. Her teacher is Alana Haughaboo.
In Region V, the Huntsville Literary Association provides cash prizes and trophies for contestants, and UAHuntsville provides $1000 scholarships for first prizewinners.
The 13 counties in Alabama Region V are Madison, Limestone, Jackson, Morgan, Marshall, DeKalb, Cullman, Blount, Etowah, Cherokee, St. Clair, Calhoun and Cleburne.
Last year, Alabama's state champion, Youssef Biaz, from Auburn High School, won the national top prize of a $20,000 college scholarship and $500 for his school to buy poetry books.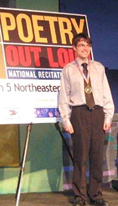 Nicholas Mecikalski, a senior at Bob Jones High, won first place in the anthology competition.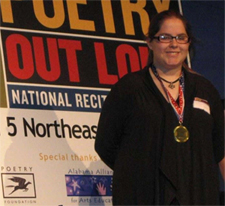 Tori Weeks, a junior at Austin High School, Decatur, won first place for her poem "The Thrift Store on Grissom Avenue."
For more information
Joyce Anderson-Maples