The University of Alabama in Huntsville Earns National Recognition for Its Evening MBA Program
Huntsville, Ala. (April 4, 2013) - The University of Alabama in Huntsville's evening professional (part-time) MBA program, offered by the College of Business Administration, was named to U.S. News & World Report's recently released 2014 ranking of Best Business Schools - Part-Time MBA. The program placed 60th among public universities nationwide and was tied for 15th in the Southeastern region.
"While we do not have sufficient numbers of full-time students who meet the 'employment-type' threshold required of U.S. News to be included in the full-time program rankings, the evening program has been growing rapidly over the last 4 years and has outstanding students from the Huntsville community," said Dr. Caron St. John, Dean of the College of Business Administration. "Congratulations to our faculty, staff, and students!"
The rankings were based on five factors, according to U.S. News: the average peer assessment score, the average admissions test scores of students entering in fall of 2012, the average undergraduate GPA, years of work experience, and the percentage of part-time enrollment.
Eligibility also hinged on accreditation by the Association to Advance Collegiate Schools of Business International and a minimum fall 2012 enrollment of 20 students. Nationally, 282 part-time MBA programs met these criteria, though programs that did not score within the top three quarters did not receive a published ranking.
The College of Business Administration at The University of Alabama in Huntsville offers full- and part-time graduate programs in a variety of areas. The college offers a unique MBA program that positions graduates for success in organizations and industries influenced by technology and innovation. In addition to advanced coursework in business disciplines, organization theory, and decision making, the core program introduces the role of technology in driving innovation, uncertainty, and change -- and the unique issues in managing high technology professionals. To learn more, visit http://www.uah.edu/cba/grad/degrees/mba.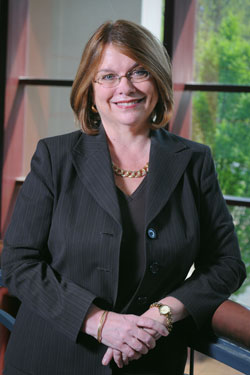 Photo by Aaron Sexton / UAHuntsville
Dr. Caron St. John, Dean of the College of Business Administration
---
You may also be interested in: