Concrete canoe team places second, will attend nationals
HUNTSVILLE, Ala. (March 20, 2013) — The University of Alabama in Huntsville's concrete canoe team finished second in Southeastern regional competition March 15 and 16 at Florida International University and the University of Miami and advances to the national competition in June at the University of Illinois at Urbana-Champaign.
The University of Florida advanced as well, after winning the competition in which 26 universities participated. "The winner of the region goes to national, usually," said Dr. Houssam Toutanji, who is team co-advisor along with Dr. John Gilbert. However, UAHuntsville's second place finish advances the team because if a team competing in regionals finishes second to a team that last year placed in the top five in national competition, that second-place team also gets to compete at national.
"Last year, Florida beat us at regional, Florida went to the national and Florida was top five at national," said Dr. Toutanji. "So this year, anybody who came in second to Florida could go to the national."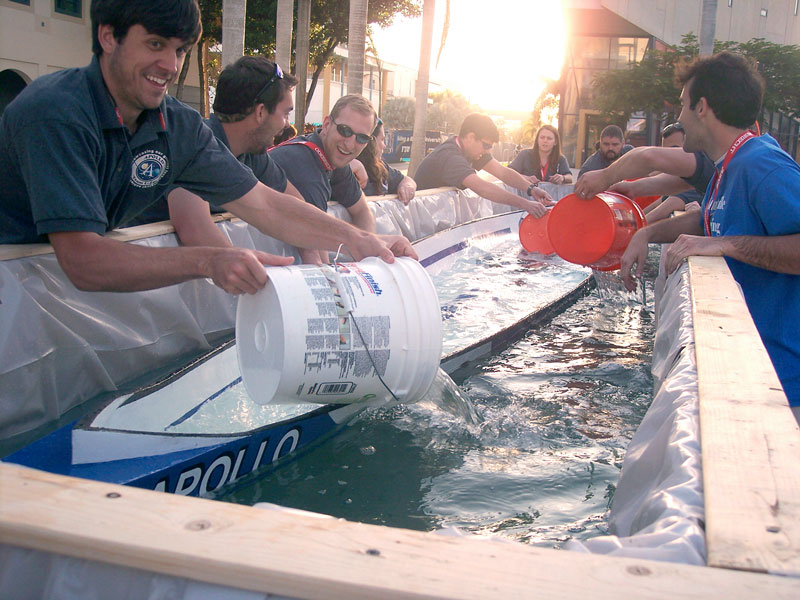 Students test the flotation abilities of UAHuntsville's concrete canoe.
In addition to winning second place overall, UAHuntsville placed in several individual events. UAHuntsville took first place in the design paper and the final product; second place in the women's endurance race, in the men's endurance race and in the plan reading/transportation competition; and third place in the surveying competition.
The win is a major accomplishment by the UAHuntsville team, said Dr Toutanji. "To tell you the magnitude of this concept, 26 universities compete in just the Southeast region. Then we have 18 regions in the U.S. You do the math, and you are looking at couple of hundred universities and several top-name universities competing. It is great for us to succeed as a small department in a smaller university that is competing with Florida International University, University of Florida, University of Central Florida, the University of Tennessee – universities three or four times the size of our university."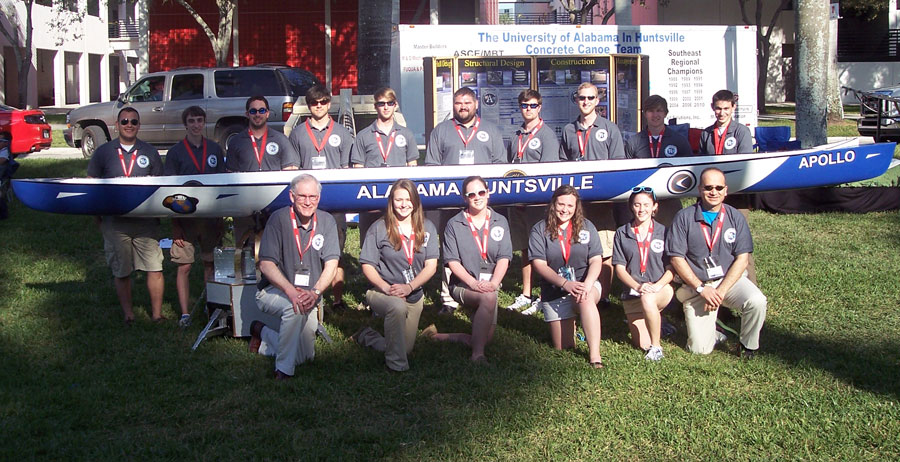 Members of the UAHuntsville concrete canoe team are, from left: Front row: Dr. John Gilbert, Jeni Jordan, Sarah Smith, Jessica Carr, Alex Beck and Dr. Houssam Toutanji. Back row: Alfredo Reza, Matthew Pinkston, Travis Overton, Taylor Baker, Austin York, Matthew Wallace, Trey Moseley, Robby Renz, Mikhail Privalov and Stephen Phillips.
The event teaches team members leadership skills, he said. The students handle all aspects of the competition, including planning, designing and building the unit; presenting it; and reserving their own hotel space and performing event logistics.
"I go around the country and people say to me, UAH – concrete canoe, what a great team!" said Dr. Toutanji. "This is worth hundreds of thousands of dollars of publicity for the university, and I am not exaggerating."
The 20-member UAHuntsville student team is now
raising money to attend the national competition in Illinois.

Donations can be sent to:
ASCE Student Chapter Concrete Canoe Competition
Dept. of Civil and Environmental Engineering
The University of Alabama in Huntsville
Attn: Dr Houssam Toutanji
Huntsville, AL 35899
---
You may also be interested in: