UAHuntsville celebrates annual Honor's Day activities
HUNTSVILLE, Ala. (March 14, 2013) — The University of Alabama in Huntsville (UAH) will recognize outstanding students during various celebratory events on Thursday, April 4, on the university's campus. The University Undergraduate Academic Honors Convocation is one of UAH's most important traditions allowing the university to honor our students and to recognize their successes.
This year, the Undergraduate Academic Honors Convocation will be held at 9 a.m., in the University Center (UC) Exhibit Hall. Faculty should assemble in UC room 26 and are requested to wear full academic regalia and march without regard to academic rank. The Platform Party will gather in UC room 32, and students will assemble in UC room 131. Everyone should be assembled by 8:30 a.m. A reception will follow the Honors Convocation.
Each college within the university will hold separate Honors Day programs, and schedules are listed below:
-Nursing
-Liberal Arts
-Business Administration
-Engineering
-Science
Chan Auditorium
Roberts Recital Hall
Chan Auditorium
Shelby Center Courtyard
McDonnell Douglas Auditorium
1 p.m.
2 p.m.
3 p.m.
3 p.m.
4 p.m.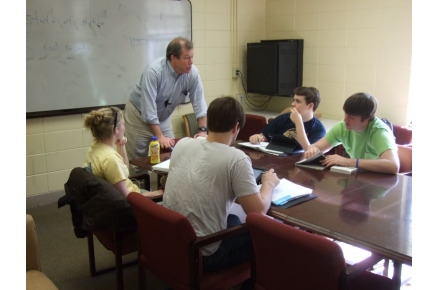 Andy Cling teaching an Honors seminar
---
You may also be interested in: