UAHuntsville Theatre presents Urinetown, a musical comedy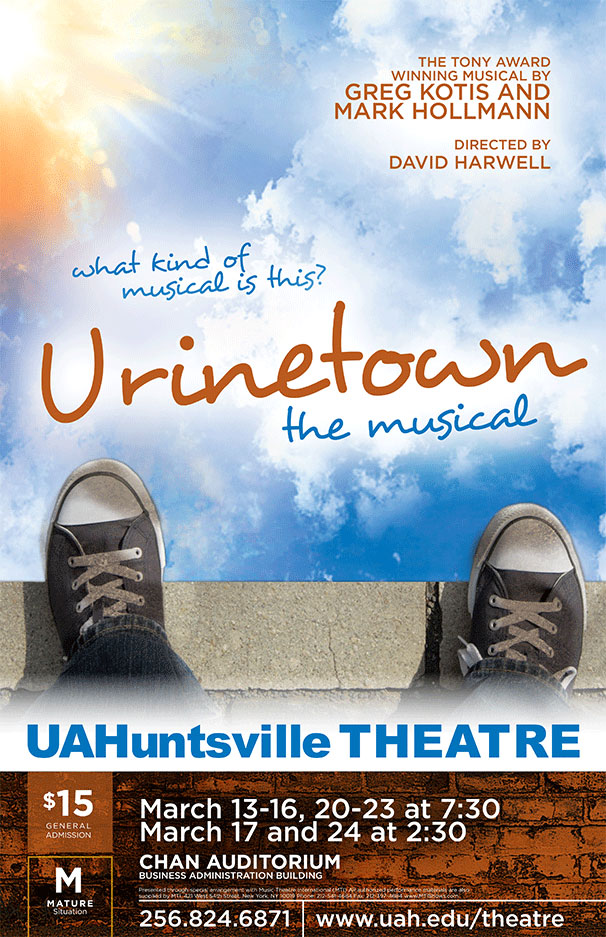 HUNTSVILLE, Ala. (February 15, 2013) — Imagine a town where there is virtually no water left. Private restrooms no longer exist and everyone must pay to use the town's only public facility. Such is the life in Urinetown, where a 20-year drought has made it hard for residents to get relief.
The University Alabama in Huntsville (UAHuntsville) Theatre will present Urinetown: The Musical Comedy in the Chan Auditorium on March 13-16 and 20-23 at 7:30 p.m. Matinee performances will be on March 17 and 24 at 2:30 p.m. Chan Auditorium is located in the Business Administration Building.
The musical comedy directed by David Harwell, theatre professor at UAHuntsville includes numerous visual jokes and satirical songs such as "I See A River."
Urinetown, by Greg Kotis and Mark Hollmann, earned 10 Tony nominations and won three awards for best book, original score and direction. Kotis was inspired to write Urinetown as a student travelling in Paris. Not anticipating a pay-per-use public restroom system, Kotis suddenly found himself having to choose between his budget and his bladder.
For information about tickets, please contact Donna Lamp, Monday through Friday from 8 a.m., to 5 p.m., at (256) 824-6871, or in Morton Hall 342 on the UAHuntsville campus. For more information about Urinetown: The Musical and UAHuntsville Theatre, please visit their website at www.uah.edu/theatre.
For more information
Joyce Anderson-Maples (256) 824-2101
maplesj@uah.edu
---
You may also be interested in: