Secretary of the Smithsonian Institution Wayne Clough to speak at UAHuntsville commencement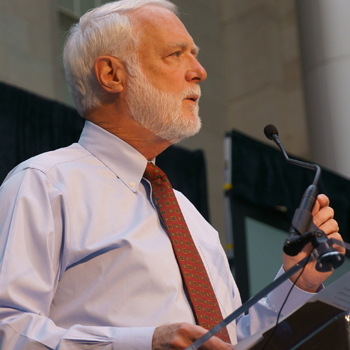 HUNTSVILLE, Ala. (December 3, 2012) — Wayne Clough, the 12th Secretary of the Smithsonian Institution will address the 2012 graduates of The University of Alabama in Huntsville (UAHuntsville) on Saturday, December 15, at 10 a.m., in Propst Arena, Von Braun Center.
Approximately 900 UAHuntsville students are expected to complete their degree requirements and participate in the fall commencement ceremony. About 560 UAHuntsville students will receive undergraduate degrees, nearly 320 students will earn master's degrees and approximately 30 students will be awarded Ph.D., and DNP degrees.
As head of the Smithsonian since 2008, Clough oversees the world's largest museum and research complex featuring 19 museums, nine research centers, the National Zoo, and research activities in more than 90 countries. During his tenure, he has overseen several major openings at the Smithsonian, including the reopening of the National Museum of American History and the David H. Koch Hall of Human Origins and Sant Ocean Hall at the National Museum of Natural History.
Clough is working to expand the Smithsonian's global relevance and help the nation shape its future through research, education, and scientific discovery. To ensure the Smithsonian's vast collection is accessible and available, he is leading the effort to digitize much of it's 137 million objects in the collection and use the World Wide Web and Smithsonian experts and scholars to reach out to new audiences in the United States and around the world.
Before his appointment to the Smithsonian, Clough was president of the Georgia Institute of Technology (GIT) for 14 years. He received his bachelor's and master's degrees in civil engineering from GIT, and a doctorate in civil engineering from the University of California, Berkeley.
Clough has been a professor at Duke University, Stanford University, and Virginia Tech. He served as head of the Department of Civil Engineering and dean of the College of Engineering at Virginia Tech, and as provost at the University of Washington.
He was elected to the American Academy of Arts and Sciences in 2010 and serves on its Commission on the Humanities and Social Science. In 2009, Clough was inducted into the Technology Hall of Fame of Georgia and received the Joseph M. Pettit Alumni Distinguished Service Award that recognizes a lifetime of leadership, achievement, and service to Georgia Tech (GIT).
In September, GIT dedicated the G. Wayne Clough Undergraduate Learning Commons building to honor Clough's commitment to undergraduate students.
For more information
Joyce Anderson-Maples (256) 824-2101
maplesj@uah.edu
---
You may also be interested in: