Space law expert to lecture at UAHuntsville
Huntsville, Ala. (October 6, 2011) - Joanne I. Gabrynowicz, director of the National Center for Remote Sensing, Air, and Space Law at the University of Mississippi School of Law will lecture at The University of Alabama in Huntsville (UAHuntsville) on Tuesday, Oct. 11.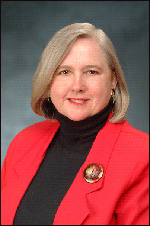 Her visit is sponsored by the UAHuntsville Honors Forum Lecture series. The lecture will begin at 11:10 a.m., in Frank Franz Hall room 138, and is free and open to the public.
Gabrynowicz also serves as editor-in-chief, of the Journal of Space Law. She teaches space law and remote sensing law at The University of Mississippi (UM). She was a founding faculty member of the University of North Dakota Space Studies Department. Gabrynowicz is an official observer for the International Astronautical Federation to the UN Committee on the Peaceful Uses of Outer Space.
UM offers the only dedicated aerospace law curriculum in the nation from an American Bar Association-accredited law school, and requires courses on U.S. space and aviation law, international space and aviation law, and remote sensing; participation in the publication of the Journal of Space Law; and independent research. The National Center for Remote Sensing, Air and Space Law was founded in 1999. The first space law certificate was awarded in spring 2008.
She also is a member of the Department of Commerce Advisory Committee on Commercial Remote Sensing. Gabrynowicz advised the Eisenhower Institute on its study, The Future of Space-the Next Strategic Frontier. She is also a member of the International Society for Photogrammetry and Remote sensing International Policy Advisory Committee.
Before beginning her academic career, she was the managing attorney of a law firm in New York City. She is a member of the American Bar Association, Forum on Aviation and Space Law, the New York State Bar, the International Institute of Space Law and Women in Aerospace, among other groups.
Gabrynowicz is the recipient of the 2001 Women in Aerospace Outstanding International Award. Additionally, she was awarded a NASA/American Society of Engineering Education Summer Faculty Fellowship from Goddard Space Flight Center, where she also served as the Dean of the NASA Space Academy.
She earned her undergraduate degree at Hunter College, and a J.D., at Yeshiva University Cardozo School of Law.
For more information
Joyce Anderson Maples 256.824.2101
maplesj@uah.edu">maplesj@uah.edu