UAHuntsville fall history forum to focus on New England witch trials and manhood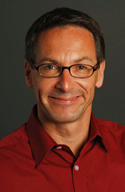 Huntsville, Ala. (October 18, 2012) — Richard Godbeer will share his latest research on New England witch trials and manhood in the 17th century at The University of Alabama in Huntsville (UAHuntsville) on Tuesday, October 23.

Godbeer is the keynote speaker for the annual UAHuntsville Fall History Forum. His lecture "Your Wife Will be Your Biggest Accuser: Reinforcing Codes of Manhood at New England Witch Trials,"will be presented at 7 p.m., in Roberts Hall room 419 on the UAHuntsville campus. The talk is free and open to the public.

Godbeer is professor of History at the University of Miami, and specializes in colonial and revolutionary America, with an emphasis on religious culture, gender studies, and the history of sexuality. He previously taught at the University of California (Riverside).

He is the author of numerous publications, including Escaping Salem: The Other Witch Hunt of 1692 (published in 2004 by Oxford University Press), and The Salem Witch Hunt: A Brief History with Documents (published in 2011 as a volume in the Bedford Series in History and Culture). Godbeer is currently working on a joint biography of Elizabeth and Henry Drinker, a Quaker couple who lived in Philadelphia during the second half of the 18th century.
Godbeer received his undergraduate degree from Oxford University and his Ph.D. from Brandeis University.
For more information about the UAHuntsville Fall History Forum, please call 256.824.6210.
You may also be interested in: