UAHuntsville hosting Von Braun Memorial Symposium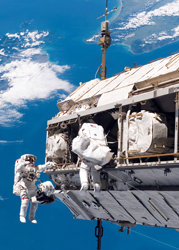 photo courtesy of NASA
HUNTSVILLE, Ala. — The campus of The University of Alabama in Huntsville will draw aerospace leaders from around the country this week for the fifth annual Wernher von Braun Memorial Symposium.
"Space Exploration, Security and Commerce: Our Path Forward," is the title of the symposium that begins today and goes through Thursday. Most of the activity will take place in the Chan Auditorium of the Business Administration Building.
The symposium gets under way in earnest Tuesday morning at 8:30 with remarks by Frank Slazer, Aerospace Industries Association president, and Marshall Space Flight Center Director Patrick Scheuermann will provide a Marshall update. NASA Associate Administrator Robert Lightfoot from NASA headquarters will provide the opening keynote addressat the opening session.
Panel discussions on the first day include NAA Human Space Exploration Plans and will be oderated by Dan Dumbacher, NASA's deputy associate administrator for Exploration Systems Development. That will be followed by a panel by industry representatives on exploration.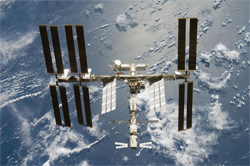 Photo courtesy of NASA
Phil McAlister, director of commercial spaceflight development at NASA Headquarters, will moderate discussion of space commerce and commercial launch. John Horack, vice president of space systems at Teledyne Brown Engineering will moderate a panel on robotic and human exploration.
Second day panels include challenges and solutions for national security in space, hosted by Mike Griffin, Chairman and CEO of Schafer Corp., followed by trends in U.S. engineering education, hosted by Chris Singer, Director of the Engineering Directorate at Marshall Center. Tom Koshut, Associate Vice President of Research at The University of Alabama in Huntsville, will moderate a panel on the likely directions of future space policy.
The Wernher von Braun Memorial Dinner will conclude the symposium on Wednesday evening at 7 o'clock in the Davidson Center at the U.S. Space & Rocket Center. Paul Allen, an entrepreneur and philanthropist and co-founder of Microsoft Corp., will be the keynote speaker.
You may also be interested in: