Influenza Clinic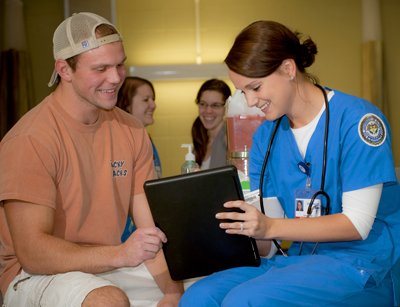 HUNTSVILLE, Ala (October 9, 2012) — "Support the Blue — Don't Get the Flu," is a two-day grassroots influenza campaign led by The University of Alabama in Huntsville (UAHuntsville) College of Nursing senior students.
The clinics are scheduled for Monday, October 22, from 10 a.m., to 6 p.m., and Tuesday, Oct. 23, from 10 a.m., to 3 p.m. Both clinics will be conducted in the University Center room 026 (Old Game Room). Students may call 256.824.6775 to schedule an appointment. The shots are $10 each and may be placed on student accounts. Students getting flu injections will receive free coupons, snacks, and door prizes.
According to Marta Browning, clinical associate professor in the College of Nursing, the peak flu season for the UAHuntsville community is right after the Thanksgiving holiday with the flu bug lingering into the first week of finals in December.
"The average length of a contagious flu virus is approximately one week —the first week of finals is the most critical time of the semester," said Michael Crow, a senior nursing student and project coordinator. "It means a lot of sick students who end up blowing a semester grade, for a preventable illness."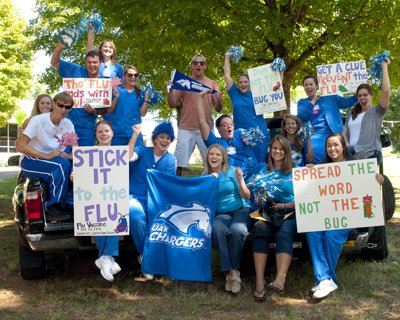 This year's flu vaccine will be made from three vaccine viruses:
• A/California/7/2009 (H1N1)-pdm09-like virus;
• A/Victoria/361/2011 (H3N2)-like virus;
• B/Wisconsin/1/2010-like virus (from the B/Yamagata lineage of viruses)
Certain people are at greater risk for serious complications if they get the flu. This includes people with chronic health conditions such as asthma, diabetes or heart disease. And, remember the flu season can actually span three seasons: fall, winter and spring. In order to stay healthy during flu season, the best thing to do is to keep the immune system strong through plenty of sleep, exercise, and clean hands.
Co-sponsors for the influenza clinic are the College of Nursing, Student Health Center, Student Affairs, the Alabama Credit Union and Lawler's Barbeque.
National Influenza Vaccination Week will be December 2-8.
You may also be interested in:
For more information
Joyce Anderson-Maples (256) 824-2101
maplesj@uah.edu