UAHuntsville laboratory should improve reliability of aerospace and defense systems
HUNTSVILLE, Ala. (November 9, 2011) - The Reliability and Failure Analysis Laboratory (RFAL) marked its grand opening today and will enable research to reduce the cost of ownership of defense and aerospace systems.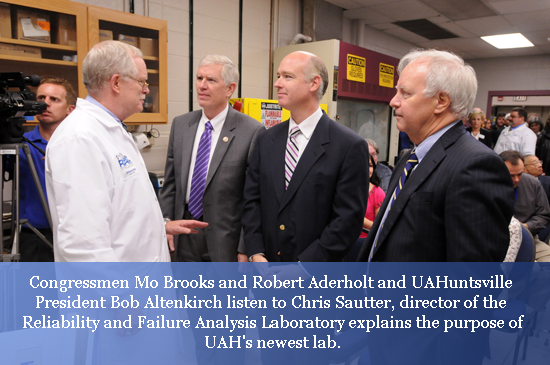 RFAL focuses on expanding the body of knowledge in the reliability engineering discipline, according to lab director Chris Sautter. The lab investigates possible failure mechanisms through math modeling and physical testing.
"The lab's primary focus is reliability, or the probability that a system or component will perform its required functions under stated conditions for its mission duration," he said.
Reliability engineering is new compared to other engineering disciplines, Sautter said. Over the past few decades there has been a big push for reliability especially with the Department of Defense, automotive and aircraft industries and biomedical devices. Each shares the concern with the complexity of the systems and the high cost of failure.
The lab has the capability to model the reliability and availability for complex systems. RFAL uses procedures to track parts or test articles in the laboratory to model failure, life-cycle costing, and sparing.
Sautter said this capability can also be applied in a reliability-centered maintenance solution to track equipment to aid in lowering the operation and support costs of equipment. In the environment of lower budgets optimizing the availability of equipment while lowering the operating costs is a primary concern for both government and the private sector.
For more information,
contact Chrystal Morgan
256.824.6644
chrystal.morgan@uah.edu