Boeing helps ENGINEER future engineers in Alabama
HUNTSVILLE, Ala. — Boeing is helping to develop the pipeline of future engineering talent in Alabama by contributing grant money toward a comprehensive educational program at The University of Alabama in Huntsville that seeks to prepare students of all ages for tomorrow's engineering challenges.
The program is called ENGINEER, or "Experience for the Next Generation of Innovators through Networked Engineering Education and Research." The brainchild of two UAHuntsville engineering professors, the program includes elements at the senior collegiate level all the way down to elementary schools across north Alabama.
"We designed this program around graduating better employees for industry, so not only are we focused on the fundamentals of engineering, but we've incorporated aspects of what students will face in the workforce -- how to write proposals, fill out time cards as well as communicate across time zones and cultural differences," said P.J Benfield, professor of Industrial and Systems Engineering and Engineering Management at The University of Alabama in Huntsville and co-developer of the ENGINEER program.
At the collegiate level, students in the senior design class divide into teams and undertake designing a spacecraft for NASA. The experience includes real world proposal work, including writing a proposal, working with suppliers and meeting customer requirements. Participating high schools get in the game by building a payload for the spacecraft, getting a feel for meeting design specifications and staying under budget.
"Our next focus areas include further development of innovative curriculum, activities and learning modules at the middle school level and expanding our egg drop challenge in the elementary schools. Our goal is to create interest - students have to like it before they will learn it," said Matt Turner, ENGINEER co-developer and professor of Mechanical and Aerospace Engineering at UAHuntsville.
Boeing has supported ENGINEER for four years and sees the program as an excellent example of collaboration between industry and education that has exponential benefits for the future.
"Boeing works closely with many institutions to enhance curricula in science, technology, engineer and math, or STEM," said Dale Ramezani, director for Higher Education and STEM programs. "It's one of the ways the company develops and attracts the talented and diverse workforce it needs to design and build the world's greatest aerospace products."
Following a recent program update briefing by Benfield and Turner, Tony Jones, vice president and Huntsville site executive, and Dan Olberding, chief engineer for the Huntsville site and executive focal for The University of Alabama in Huntsville, presented ENGINEER representatives with a $20,000 check, which will enable further development of program activities.
"It is exciting to watch this program expand and evolve to meet the growing need of industry as well as the needs of teachers who are looking for ways to increase science, technology, engineering and math education," said Olberding, "With an aging engineer workforce and declining numbers of high school graduates focused on STEM, programs like this are essential to sustaining the future engineering workforce."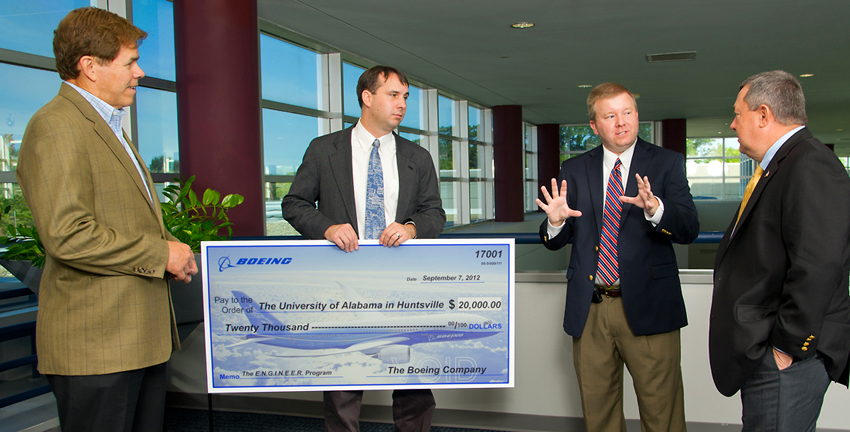 Dan Olberding, chief engineer for the Boeing Huntsville site and executive focal for UAH (far left) and Tony Jones, Boeing vice president and Huntsville site executive (far right) talk with ENGINEER program co-developers and UAH professors Dr. Matt Turner (second from left), Dr. P.J Benfield (second from right) following a Boeing grant presentation for the engineering development program.

You may also be interested in:
For more information,
contact Ray Garner
256.824.6397
(256.UAH.NEWS)
ray.garner@uah.edu