SAIC provides $125,000 gift to UAHuntsville College of Business Administration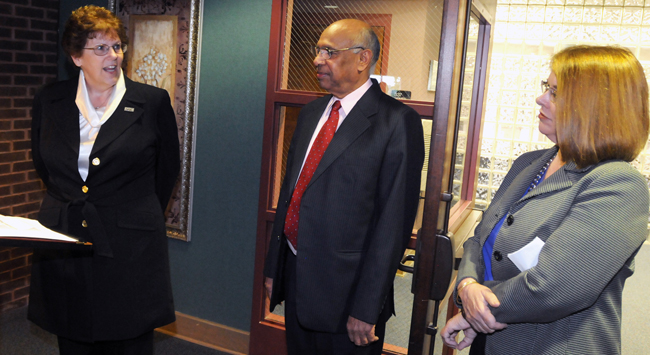 HUNTSVILLE, Ala. — Science Applications International Corporation has provided a $125,000 gift to The University of Alabama in Huntsville College of Business Administration to help further develop programs in enterprise resource planning (ERP) using SAP software.
SAP software, which helps manage business solutions, is used in 12 UAHuntsville business school courses, including a course in business intelligence management. More than 1,800 students have taken these classes since 2006.
"This gift from SAIC will allow us to grow our ERP teaching programs using the same SAP software used by the U.S. Army, NASA, their contractors and many other businesses in the community," said Dr. Jeet Gupta, UAHuntsville management professor.
SAIC has provided this grant annually, which also supports the development, student skills through SAIC internship programs, guest speakers and assistance with curriculum development.
"SAIC's support will allow us to continue to incorporate SAP/ERP into our business classes, which means that this resource will be included in the education and lives of hundreds of additional students every year," said Dr. Caron St. John, dean of the College of Business Administration. "The feedback we have received reveals that these classes give our students a unique advantage, and benefit the organizations that employ them."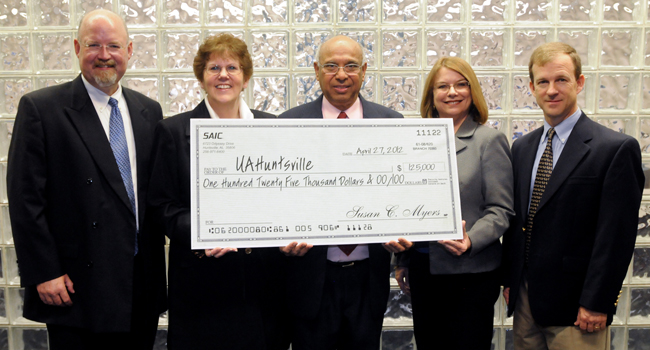 SAIC provides a $125,000 gift to UAHuntsville's College of Business Administration. Pictured, from left: SAIC Vice President Charles Lewis, SAIC Division Manager Sue Myers, UAHuntsville faculty member Jeet Gupta, Business Administration Dean Caron St. John, and Neil Rodgers, Deputy Director of the Office of CIO at Marshall Space Flight Center.
UAHuntsville is part of SAIC's Strategic University Alliances program which focuses on campus activities in support of the company's strategic goals, particularly strengthening the science and technology core of SAIC.
With more than 2,000 employees, Huntsville is SAIC's third largest location. The company has more than 2,500 employees throughout the state of Alabama.
About SAIC
SAIC is a FORTUNE 500scientific, engineering, and technology applications company that uses its deep domain knowledge to solve problems of vital importance to the nation and the world, in national security, energy and the environment, critical infrastructure and health.
The company's approximately 45,000 employees serve customers in the U.S. Department of Defense, the intelligence community, the U.S. Department of Homeland Security, other U.S. Government civil agencies and selected commercial markets. The company's headquarters are in McLean, Va. For more information, visit www.saic.com.
About UAHuntsville
The University of Alabama in Huntsville is a doctoral-granting, "very high research activity" institution with approximately 7,700 students. The campus is among U.S. News & World Report's Tier 1 national universities. UAHuntsville is the anchor tenant in Cummings Research Park, the second largest research park in the United States. More information about UAH can be found at www.uah.edu.
For more information,
contact Ray Garner
256.824.6397
(256.UAH.NEWS)
ray.garner@uah.edu