German Ambassador Dr. Peter Ammon will be commencement speaker for UAHuntsville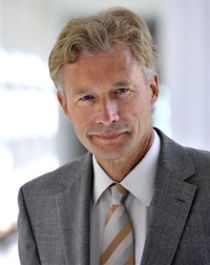 HUNTSVILLE, Ala. – Peter Ammon, Ambassador of the Federal Republic of Germany to the United States, is scheduled to deliver the UAHuntsville commencement address on Saturday, May 5, 2012. The ceremony begins at 10 a.m. and will be held at the Von Braun Civic Center in downtown Huntsville.
UAHuntsville is expected to issue 872 diplomas at its spring graduation ceremony — 667 bachelor's degrees, 181 master's degrees and 24 Ph.D.s.
Ambassador Ammon holds a doctorate in economics from Berlin's Free University, and served most recently as the State Secretary in the German Foreign Office. In 2007 and 2008, he was appointed German Ambassador to Paris, France. Prior to this appointment, he served as a career diplomat in London, Senegal, New Delhi and Washington.
"Germany is one of America's most important partners on the international stage, in areas of economics, science and technology research, defense, and education," said UAHuntsville President Dr. Robert Altenkirch. "Our UAHuntsville graduates are entering a complex, dynamic, and rapidly changing world, in which partnerships and collaborations across oceans, languages, and cultures are critical for success and the betterment of all people. Ambassador Ammon has committed his life to building a more peaceful, fair, and prosperous world. As one who works daily to build meaningful international relationships, and to deepen the cooperation between our two nations, we are very honored to welcome him to Huntsville."
During his visit, Dr. Ammon will be awarded an honorary doctorate from UAHuntsville. His visit also precedes the opening of the annual membership meeting of the German-American Chamber of Commerce (South), to be held in Huntsville on May 6-7, 2012.
Additional Links: Commencement Website
For more information,
contact Ray Garner
256.824.6397
(256.UAH.NEWS)
ray.garner@uah.edu