UAHuntsville recognizes Von Braun's influence on the university for city's celebration of scientist's 100th birth date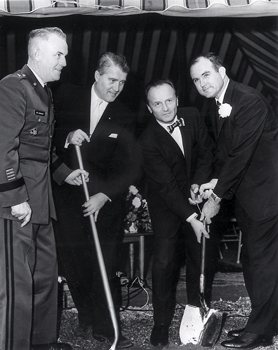 This 1961 photograph shows Dr. Wernher von Braun and Alabama Congressman Robert Jones in front of a large map illustrating the layout for a Research Institute at the University of Alabama in Huntsville.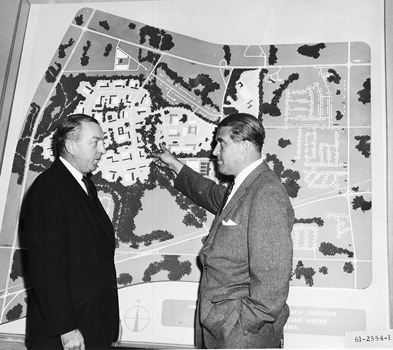 Major General Francis McMorrow, Dr. Wernher von Braun, Research Institute Director Rudolph Hermann, and Alabama Governor John Patterson participate in the groundbreaking ceremony for the University of Alabama Research Institute in Huntsville on December 20, 1962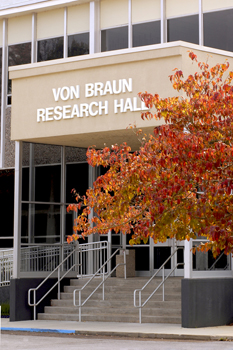 The Research Institute building on the UAHuntsville campus was renamed Von Braun Research Hall in 2000 in honor of the rocket pioneer.
HUNTSVILLE, Ala. (March 19, 2012) - As the Rocket City gears up to celebrate the 100th birthday of Wernher von Braun, known as the "Father of the American Space Program," The University of Alabama in Huntsville is also commemorating this landmark occasion by recognizing the visionary's impact on the university.
Dr. Von Braun's arrival in 1950 coincided with the founding of the University of Alabama Huntsville Center. However, his influence and vision ultimately spurred the school's expansion into research, science and engineering. Today, UAHuntsville is an autonomous campus of the University of Alabama System and one of the nation's leading research universities.
The university is planning a program on March 22 at the Louis Salmon Library to mark the occasion. (The university will be closed for spring break on the actual date of his birth, which is March 23.) Film clips and still photos will be on display, as will space hardware from the library's archives. A panel of speakers will discuss Dr. von Braun's influence on the university. Those speakers include: Von Braun confidante Fred Ordway; aerospace consultant and von Braun team member Dave Christensen; and Chuck Lundquist, a UAH scientist who also worked with von Braun as a physicist on the Army's rocketry program in the 1950s. Students from the university's music department will also perform several songs written by von Braun during the program.
"Wernher von Braun really put Huntsville on the map," says Charles Lundquist. "And once the Army decided to put their rocketry activities here, they had to have an engineering and science university to support it." This was, after all, in the wake of World War II, when engineers and scientists were in great demand but short supply.
"It was a very competitive market in those days, and any engineer fresh out of college, if he was worth his salt, wanted to take graduate courses and advance himself while he was working. That was the standard across the country," says Lundquist. "So to have any hope of being competitive, arrangements had to be made for Huntsville to offer graduate courses for the new graduates."
And it wasn't just engineers and scientists who were in short supply, he adds, but professionals of all types. "The Army, and later NASA, was also very interested in hiring personnel - all the people needed for a balanced organization," he says. "So they were part of an effort undertaken by Huntsville's civic leaders to establish an extension of the University of Alabama that offered higher education courses."
With a curriculum overseen by the University of Alabama in Tuscaloosa, classes were originally taught at West Huntsville High School (now the vacant Stone Middle School building) and "in some old empty buildings on Redstone Arsenal," says Lundquist. "We often had to help by teaching the courses ourselves."
Following that, a co-operative education experience was added with the creation of Marshall Space Flight Center. "Employees could alternate working one semester with the Army or NASA and then going to school the next semester," says Lundquist. "In my experience, that co-op turned out some of best employees you could get."
Even with the center's early successes, Lundquist says von Braun still felt something was lacking. "Von Braun was adamant that the university had to have research capability," says Lundquist. "Professors teach and do research - that's how academia works, so it was almost impossible to hire someone to teach physics here if, at the same time, he didn't have the opportunity to do research in physics."
So in what is now well-known state history, von Braun asked the Alabama Legislature to provide funding for a research institute that would not only allow professors at UAHuntsville to continue their research, but also allow those employed by the Army and NASA to pursue their advanced degrees.
During his impassioned plea, von Braun made several points to the importance of a research university on the city's economic growth.
During his 1961 address to the Alabama Legislature, he pointedly said: " It's the university climate that brings the business. Let's be honest with ourselves. It's not water, or real estate, or labor or cheap taxes that brings industry to a state or city. It's brainpower."
He added during his address to the legislature: "Opportunity goes where the best people go, and the best people go where good education goes. To make Huntsville more attractive to technical and scientific people across the country - and to further develop the people we have now - the academic and research environment of Huntsville and Alabama must be improved."
Von Braun's talk had great influence. The legislature granted $3 million in seed money to lay the foundation for the UAHuntsville Research Institute. Today, the university graduates 40 Ph.D.s and 350 students with master's degrees annually, and has earned recognition from the Carnegie Foundation as one of only 73 public universities in the nation with very high research activity. A number of the university's programs are ranked in the top 10 in the nation.
As for whether UAHuntsville would be the prestigious school that it is today without von Braun's vision and efforts on behalf of the city, Lundquist has no doubts. "If von Braun and his team had not come here, there would be no UAHuntsville," he says. "He totally changed the course of events in Huntsville and for the university."
Von Braun, the visionary, may have said it best 50 years ago: "By building the academic climate in Huntsville… this community believes that this area is destined to continue to grow and become a great and permanent scientific, educational and industrial center."
For more information,
contact Ray Garner
256.824.6397
(256.UAH.NEWS)
ray.garner@uah.edu