UAHuntsville chosen by NASA to launch satellite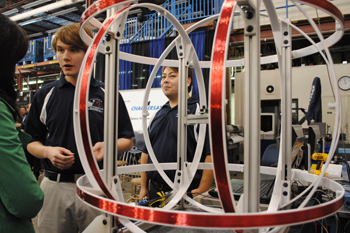 Space Hardware Club and ChargerSat1 team member, Dean Gillmore, shows the student-designed, student-built 3-axis magnetic field generator developed for satellite testing.
HUNTSVILLE, Ala. (February 16, 2012) — The University of Alabama in Huntsville is one of 33 universities across the nation selected by NASA to fly a small satellite aboard rockets scheduled to launch in 2013 and 2014.
CubeSats are a class of research spacecraft also called nanosatellites. The cube-shaped satellites are approximately four inches, have a volume of about one quart and weigh less than three pounds.
This will be the first CubeSat built by UAHuntsville students and selected for flight, according to John Gregory, the group's faculty advisor. The group consists of members from the UAHuntsville space hardware club, a student volunteer organization that designs, builds, tests, and flies hardware for high altitude balloons, the CubeSat platform, and the CanSat competition.
Gregory added that the NASA announcement includes selections from the most prestigious American universities and shows that UAH students should be considered among the elite in the nation, particularly with U.S. space-faring universities.
Gregory also serves as director of the Alabama Space Grant Consortium, the agency that is sponsoring the university's CubeSat efforts. "This is only the first of a fleet of satellites that students from UAH and from across the state will be building."
The selections are from the third round of the CubeSat Launch Initiative. After launch, the satellites will conduct technology demonstrations, educational research or science missions. The selected spacecraft are eligible for flight after final negotiations and an opportunity for flight becomes available.
The satellites come from 18 states: Alabama, Alaska, California, Colorado, Hawaii, Kentucky, Louisiana, Maryland, Massachusetts, Michigan, Missouri, Montana, New Hampshire, New Mexico, New York, Pennsylvania, Utah and Virginia.
Related websites:
For additional information:
Ray Garner
256.824.6397
(256.UAH.NEWS)
ray.garner@uah.edu