Grammy nominated composer visits UAHuntsville as music eminent scholar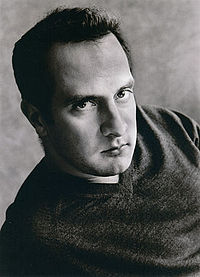 HUNTSVILLE, Ala. (February 14, 2012) —Tarik O'Regan, Grammy-nominated composer and winner of two British Composer Awards, will visit Huntsville as a composer-in-residence and eminent scholar at The University of Alabama in Huntsville (UAHuntsville) Feb. 20-24.
He will present lectures on Thursday, Feb. 23 and Friday, Feb. 24 at Roberts Recital Hall. O'Regan will work closely with choirs performing his pieces while in residence at UAHuntsville.
The UAHuntsville Concert Choir, along with the University of North Alabama's Chamber Choir (Ian Loeppky, conductor), Nativity Episcopal's Choir (Suzanne Purtee, conductor) and the Huntsville Youth Orchestra (HYO) will perform the U.S. premiere of O'Regan's work, Martyr, for choir, orchestra and soloists. Erin Colwitz, assistant professor of music and director of choirs at UAHuntsville will conduct the Martyr premiere.
The piece, along with Haydn's timeless "Lord Nelson Mass," will be conducted by HYO director, Joe Lee and will be performed on Sunday, Feb. 26 at 3 p.m., at Asbury Methodist Church in Madison. The Martyr premiere is free and open to the public.
Other performances will include the UAHuntsville Chamber Choir singing O'Regan's work for a cappella chamber choir, Threshold of Night and the HYO performing Mussorgsky's Pictures at an Exhibition. Soloists are Christie Weber, soprano; Melanie Scalfano, mezzo-Soprano; Stephen Smith, tenor; Lee Jackson, baritone; along with Mark Moorhead, organ.
O'Regan's Residency Events include:

Thursday, February 23: O'Regan Lecture to UAHuntsville Music Students; 11:10 a.m., Roberts Recital Hall
Friday, February 24: O'Regan Lecture (Composition as an Academic Discipline within the Humanities), 3 p.m., Roberts Recital Hall
Sunday, February 26: U.S. premiere of Martyr, Haydn's Missa in Augustiis "Lord Nelson Mass", Hob. Xxii:11 in D Minor, and Mussorgsky's Pictures at an Exhibition, Asbury Methodist Church, Madison, 3 p.m.
For more information, please call Dr. Erin Colwitz at 256.824.2581 or visit www.uah.edu/music or www.uahuntsvillechoirs.blogspot.com.