UAHuntsville student center unanimously approved by UA System Board of Trustees
HUNTSVILLE, Ala. (February 3, 2012) — Students at The University of Alabama in Huntsville will have a new social gathering spot following today's vote by the University of Alabama System Board of Trustees.
The board unanimously approved construction of a 90,000-square-foot student life center. The $25 million facility will provide space for retail, food vendors, dining and student activities.

The building will be located on the south side of Holmes Avenue at its intersection with the planned campus greenway. Construction is expected to begin this summer and occupancy will take place by the end of 2013.
A "bridge" component should provide safe pedestrian traffic across Holmes Avenue. The bridge will also enhance student interaction with the building during their daily commute. Streetscape improvements included with the building will be designed to create safer pedestrian traffic across Holmes.
The building's plaza and wide, ground-level passages will create natural gathering spaces, which will serve to increase student activity on campus.
The architectural character will present an iconic visual reference using established materials across campus including architectural concrete, "Charger Blend" brick, glass curtain walls and metal panels. Expanses of glass will showcase student gatherings such as the dining area, lounge area, and gaming space, highlighting the vibrancy of student life.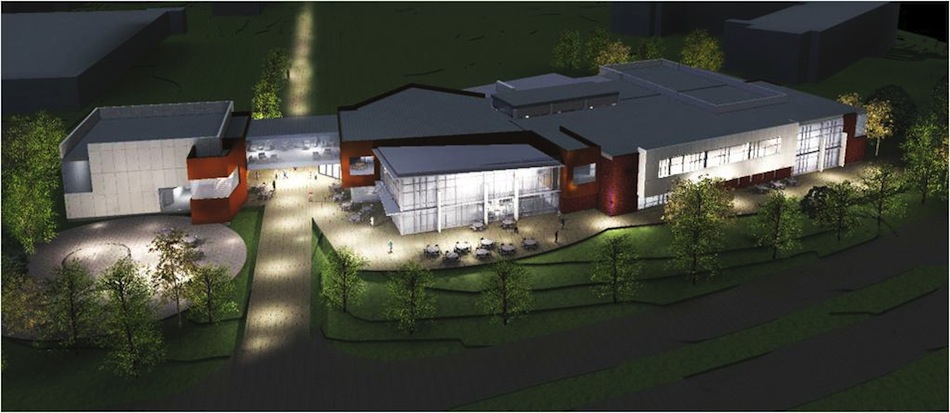 Architectural concrete panels will effectively enclose the theater component, providing the needed black-box, while using the building's exterior as a canvas for night-time movie projections. The metal panel will dynamically flow through building forms, wrapping horizontal and vertical surfaces, signifying areas of entrance and special prominence. The use of colored LED exterior light projections on building surfaces will further embrace "Charger spirit" or can be used for significant celebrations or social/community awareness programs.
For more information,
contact Ray Garner
256.824.6397
(256.UAH.NEWS)
ray.garner@uah.edu