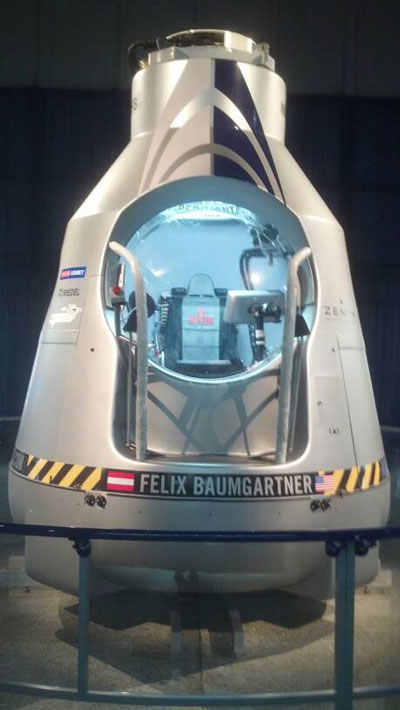 HUNTSVILLE, Ala. (September 2, 2013) - The U.S. Space and Rocket Center is offering special discount tickets to University of Alabama in Huntsville (UAH) employees and students to view the Red Bull Stratos Exhibit for $11 with your Charger card, through September 30.
Red Bull Stratos is a space diving project supported by Austrian skydiver, Felix Baumgartner, and a team of scientists. The exhibit includes Baumgartner's balloon capsule, and his high pressure suit. The display also features interactive displays that tell the behind-the-scenes story of the Red Bull project.
On October 14, 2012, Baumgartner ascended to 128,100 feet in the capsule and made a free fall jump rushing toward earth at supersonic speeds and reaching Mach 1.25, before parachuting to the ground. Baumgartner broke the sound barrier on his descent, and became the first human to do so without the aid of engine power.
The project was sponsored by Austrian company Red Bull GmbH, makers of the energy drink.
For more information, contact:
Joyce Anderson-Maples
(256) 824.2101
maplesj@uah.edu
---
You may also be interested in: