UAH Jazz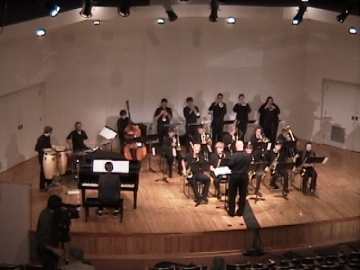 Jazz at UAH
Jazz opportunities are available to all UAH students, regardless of major. There is a Jazz Emphasis available for those music majors who are interested in intensive jazz study.
Jazz study at UAH includes:
UAH 100 Jazz Ensemble (MUX 389)
UAH 111 Jazz Ensemble (MUX 389)
Jazz Combos (MUX 386)
Jazz History (MU 316)
Jazz Theory (MU 205)
Jazz Arranging (MU 317)
Jazz Improvisation I (MUJ 301)
Jazz Improvisation II (MUJ 302)
Jazz Studio Instruction (MUJ 131, 141, 151, 161, 171, 181 – 30-minutes per week)
Jazz Studio Instruction (MUJ 231, 241, 251, 261, 271, 281 – 50-minutes per week)
Jazz Performance
UAH Jazz groups have performed internationally, with trips to Sweden & Finland (2001), Cuba (2004), and Puerto Rico (2009).
The UAH Jazz Ensembles are 16-20 piece groups playing contemporary big band music. Students in the band develop an understanding of — and experience in — jazz styles, improvisation, and performance techniques.
UAH Jazz Combos are small jazz combos with four to eight members focusing on improvisation and small group jazz.
In all ensembles, beginning through advanced jazz musicians gain exposure to a variety of jazz styles. Additionally, they develop a basic understanding of jazz improvisation, and, if interested, are encouraged to explore jazz arranging.
Guest Artists
Many outstanding jazz soloists have performed at UAH, usually accompanied by student groups. These artists have included Gene Aitken, Ray Anderson, Chocolate Armenteros, Billy Bargetzi, Jeanie Bryson, Jim Cavender, Greg Chambers, Rick Davies, Dave Gannett, Darrell Grant, Kathy Kosins, Charlie Lyle, Ladd McIntosh, Miles Osland, May Peters, Billy Ross, Jerry Tachoir, Harry Watters, and Ken Watters.
Recordings
Click here for concert sound clips.
Click here for information on the Future Standards CD by the UAH Jazz Faculty and Friends.