Fathallah Alouani-Bibi
Hi,
I am an affiliated research associate with the CSPAR (Center for Space Plasma and Aeronomic Research), University of Alabama in Huntsville. My research interest and background include: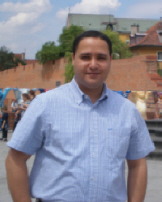 Systems Biology and Bioinformatics (presently as part of a graduate program at Case Western Reserve University, Cleveland, Ohio): Genomics, Proteomics, Computational molecular biology, Translational biology.

Numerical Algorithms and Methods: Finite difference / Finite Volume / Finite element / Eulerian – Lagrangian methods / Riemann solver / Computational Fluid Dynamics (CFD). Particle based methods: Monte-Carlo / Particle-in-Cell / Test-particle; Density function methods: Boltzmann

Solvers: Initial & Boundary value problem / ODE-PDE in presence of steep slope or singularity / Eigenvalue problem.

Computational Physics: Turbulence / Magnetic reconnection / Thermal conduction / Instabilities / Wave-particles interaction / Atomic physics / laser-plasma interaction.

Medical Physics: Statistical Data Analysis / EEG-MEG / Monte-Carlo simulations of radiation transport.
-----------
Dr. Fathallah Alouani-Bibi,
University of Alabama in Huntsville
Center for Space Plasma and Aeronomic Research (CSPAR)
320 Sparkman Drive, NSSTC
Huntsville, AL 35805, USA
Tel: (256)961-7479 / Email: fb0006@uah.edu