HUNTSVILLE, Ala. (July 11, 2011) — The U.S. Department of State has announced that University of Alabama in Huntsville (UAHuntsville) alumnus Paul B. Ruffin ('82 MS, '86 PhD) received the prestigious 2010 Presidential Meritorious Rank Award, approved by President Barack Obama, for his accomplishments and service as a research scientist in the Department of the Army.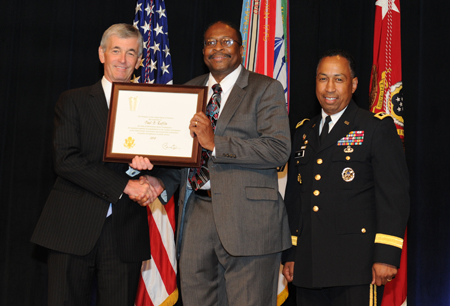 Ruffin and other meritorious award recipients from across the nation were honored by the Senior Executives Association at the group's 26th annual black tie Distinguished Rank Awards Banquet on Wednesday, June 29 at the Pentagon. The Senior Executives Association is a professional organization for career federal executives.
As a senior research scientist at the U.S. Army Aviation and Missile Research Center at Redstone Arsenal, he provides technical leadership and direction for research and development programs in the Micro- and Nano-scale technology area to achieve improvements in system performance over military environments, reduction in weapons components size and cost, and enhanced reliability.
Ruffin's research in fiber optics, Micro Electro-Mechanical Systems (MEMS), and nanotechnology has resulted in seven patent awards, four book chapters, and numerous peer-reviewed journal articles. His latest patent "Nano Smart Needle for Precision Sensing and Treatment that Promotes Healing in Living Tissue," revealed a noninvasive technique for treating cancer patients. He is the co-editor of a textbook Fiber Optics Sensors: Second Edition.
In July 2003, Ruffin was promoted to the highest rank for a research scientist – senior research scientist achievable in government service, making him the first African-American to ever attain such status in the Army. Ruffin earned a master's and Ph.D., in physics from UAHuntsville. He also received a Bachelor of Science degree in physics from Alabama A&M University.
Ruffin, who is a member of the Society of Photo-Optical Instrumentation Engineers, has received numerous prestigious awards, including the 2011 Black Engineer of the Year STEM Minorities in Research Science's (MiRS) Professional Achievement Emerald Award, the Army Research and Development Achievement Award from the Secretary of the Army in 2003, Black Engineer of the Year: Special Recognition, Technologist of the Year Award 2011, Top Ten Army Materiel Command Personnel of the Year Award, Material Acquisition/ Technology Award from the American Defense Preparedness Association, Recognition for a Canadian Patent, and many other prestigious awards.
Each year, the President recognizes and celebrates a small group of career senior executives and senior career employees with the Presidential Rank Award. Recipients of this prestigious award are strong leaders, professionals, and scientists who achieve results and consistently demonstrate strength, integrity, industry, and a relentless commitment to excellence in public service.
Award winners are chosen through a rigorous selection process. Their agency heads, evaluated by boards comprised of private citizens, and approved by the President, nominates them. The evaluation criteria focus on leadership and results.
As a Meritorious Rank Award recipient, Ruffin will receive 20 percent of his rate of annual basic pay. All award recipients will receive a framed certificate signed by the President.