Small switch goes a long way for UAH's Grounds Management
HUNTSVILLE, Ala. (September 13, 2013) - The campus of The University of Alabama in Huntsville (UAH) covers more than 400 sprawling acres. For students, that means plenty of green space to relax and study. But for UAH's Grounds Management? It just means plenty of grass to mow!
"Our mowers and vehicles go through around 300 gallons of fuel every 2 weeks," says Robert Redmon, Director of Grounds Management. And we all know how much gas costs these days. So it only made sense to start looking into other options, which is what Redmon did this past spring.
With the help of Allgas, Inc., ten of UAH's mowers and utility vehicles were converted to propane at no cost and a 500-gallon tank of propane was moved on site. And already, says Redmon, they're seeing results on the bottom line. "It adds up to a savings of about $4,200 every 7 months," says Redmon.
How? Because not only is propane more than $1 cheaper than gas, but it's just as efficient. "And because propane is clean burning," he continues, "we get an entire season of 6 to 7 months on just one oil change as compared with monthly oil changes with gasoline."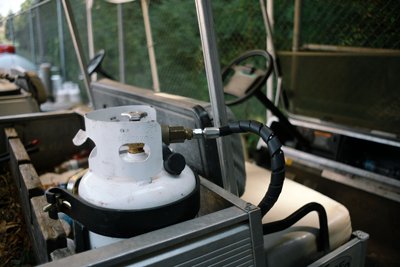 Less oil usage also means less filter needs. And those aren't the only benefits. Propane emits 30-50% less greenhouse gases than gasoline, resulting in considerable environmental advantages:
There is no fuel spillage. (The EPA estimates 17 million gallons of fuel, mostly gasoline, are spilled each year fueling lawn equipment.)
Engines run cleaner, last longer, and need less upkeep. Propane does not spoil or need additives or treatments as gasoline does.
Emissions of carcinogens from propane are 96% less than gasoline.
The percent of gas that is produced domestically is less than 10%, while domestically produced propane is around 95%.
There is no potential of water or soil contamination from propane.
Propane is not subject to Ozone Action Days.
Thus, given the success the initiative has seen so far, Redmon says he plans to convert an additional seven vehicles to propane in the coming months. So the next time you find a shady patch of UAH grass to stretch out on, remember: it's even greener than you realize!