Welcome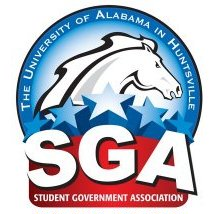 Student Government Association
The mission of the Student Government Association is to advocate for the students of the University of Alabama in Huntsville with representation that not only helps voice the opinions and concerns of students but also to help enhance the student experience as a whole. The Student Government Association will work with the faculty, staff, and administration to make necessary changes.
Student Government Association at UAHuntsville provides a forum for the free and open expression of student ideas and opinions, is a liaison from the students to the University administration, works to instill a sense of community and campus involement, and assists in creating an atmosphere conductive to a high level of academic achievement.
Student Government Association is composed of a legislative and executive branch. The legislative branch is made up of senators who are elected each spring semester to represent five colleges (Business, Engineering, Liberal Arts, Nursing, and Science) as well as five classes (Undergraduate freshman, sophomores, juniors, and seniors and graduate students).
Projects and Initiatives for 2013-2014:
SGA Sponsored Student Planner
Sponsored Student Tickets for the Alumni Association Chick Fil-A LeaderCast
Trunk orTreat - October 25, 2013
"Rep it Up!"-Lunch with your Representatives - August 22, 2013 (A WOW Event)
SGA Reach for the Sky Annual Balloon Launch August 20, 2013 (A WOW Event)
SGA Open House "Chill n Chat" - August 21, 2013(A WOW Event)
Borrow-a-Bike Program Fall 2013 :Free Campus Transport Program for UAH Students and Staff
Higher Ed Day - February 27, 2014 :Annual state wide lobbying event for students in Alabama.

The Big Event - March 15, 2014 :Annual campus wide community service initiative (Over 19 Big Event Waiver) (Under 19 Big Event Waiver)

Questions, comments, or concerns? Visit or Email us:

Location: University Center, Room 200

Office Hours: Monday - Friday, 9am - 5pm

Phone: (256) 824-2730

or contact our elected officers directly!

President: Nandish Dayal

Junior, Chemistry/Nursing

Vice President: Marcus McDowell

Junior, Psychology

**Please see the Executive & Senate tabs on the left for a listing of other members**

Constitution & Bylaws