Welcome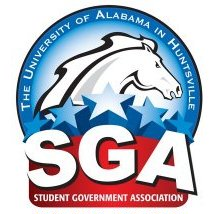 Student Government Association
The mission of the Student Government Association is to advocate for the students of the University of Alabama in Huntsville with representation that not only helps voice the opinions and concerns of students but also to help enhance the student experience as a whole. The Student Government Association will work with the faculty, staff, and administration to make necessary changes.
Student Government Association at UAHuntsville provides a forum for the free and open expression of student ideas and opinions, is a liaison from the students to the University administration, works to instill a sense of community and campus involement, and assists in creating an atmosphere conductive to a high level of academic achievement.
Student Government Association is composed of a legislative and executive branch. The legislative branch is made up of senators who are elected each spring semester to represent five colleges (Business, Engineering, Liberal Arts, Nursing, and Science) as well as five classes (Undergraduate freshman, sophomores, juniors, and seniors and graduate students).
Student Government Association Constitution & Bylaws
Student Government Association Senate Meeting Minutes
All senate meetings are held at 8PM in UC 131 (the pit) and are open to students, faculty, and staff:
January 7, 2013
November 26, 2012
Higher Education Day - February 28th, 2013
February 28th, 2013 is proclaimed by the Alabama state governor as Higher Education Day. Join with students, faculty, staff and other supporters to visit Montgomery and take part in a huge rally supporting higher education. With thousands attending, legislators and other policy makers have a real-life "visual" of the huge support coming from Alabama's 15 public universities. In a relaxed setting, over a free barbeque lunch, rally participants have the opportunity to advocate the importance of more funding for higher education face to face with policy makers.
Amongst its many goals, Higher Education Day serves three primary benefits
Allows for faculty and staff of Alabama's universities to take a stand to show their important work and merits strong state support.

It is an opportunity for every student in the state of Alabama to take a stand and show that Alabama's economic development and quality of life depend on higher education.

A forum for students and their families to demand adequate state funding that keeps tuition affordable.
Ensure that your desire and need for affordable Higher Education continues by joining us as we travel to the State Capitol February 28th and let your voice be heard!
***Signups will begin January 24th, 2013 via online form submission (to be posted here).
***Prizes for organizations will also be announced January 24th, 2013 along with signups.
***Raffle Prizes include***
3 Ipad Mini's
Gift Cards
Cash Prizes
TO SIGN UP NOW FOLLOW THIS LINK------> http://www.tinyurl.com/higheredday
SGA Annual Spring Break Trip
It's that time of the year again!!!! If you are an undergrad, graduate student, or facultly memeber of UAH, SGA invites you to come join us on our Annual Spring Break Trip. This trip is for anyone who would not only like to have fun over their break, but also forge bonds with many of their fellow students that attend this university while also gaining some community service as well as learning a bit more about our countries history and gaining knowledge and friendships that can only benefit you in the future. Students are welcome to come spend there time and get to know the members of their Student Government Association by accompanying them on the Annual Spring Break Trip to Lancaster, Pennysylvania where you will:
Visit Gettysburg National Park and Museum where you have dinner.
Take a historical walking tour (choices of either Paranormal or Non-Paranormal)
Gain a chance to observe and Amish Society
Get a day of community service by working with the Habitat for Humanity
Visit the Hershey Chocolate Factory
And visit Philidelphia to view some of the countries historic sights there
The total cost for this trip is $100 which include the five nights at the hotel and the sights that wil be visited throughout the trip. The trip will be between March 24th - March 30th with departure to Pennsylvania being the 24th and return being on the 30th. If you would like to go on the trip please contact Maggie Sierras-Trotts whose contact information can be found below or come to the SGA office in room 200 of the University Center.
Contact Information
President: Nandish Dayal
Senior, Nursing
Vice President: Marcus McDowell
Junior, Psychology
Questions, comments, or concerns? Visit us in the office:
Location:

University Center, Room 200

Office Hours: Monday - Friday, 9am - 5pm

Email: sga@uah.edu">sga@uah.edu

Phone: (256) 824-2730
**Please see the Executive & Senate tabs on the left for a listing of other members**
SGA Projects and Initiatives for 2012-2013:
SGA Sponsored Student Planner

Sponsored Student Tickets for the Alumni Association Chick Fil-A LeaderCast

Trunk of Treat - October 26, 2012

Lunch with your Representatives - August 2012 (A WOW Event)

Senator Seek & Find January 2013 (A WOW Event)

SGA Open House (A WOW Event)

Borrow-a-bike Program

Higher Ed Day - February 28, 2013

Annual state wide lobbying event for students in Alabama.

The Big Event - March 9, 2013

Annual campus wide community service initiative