NEW STEM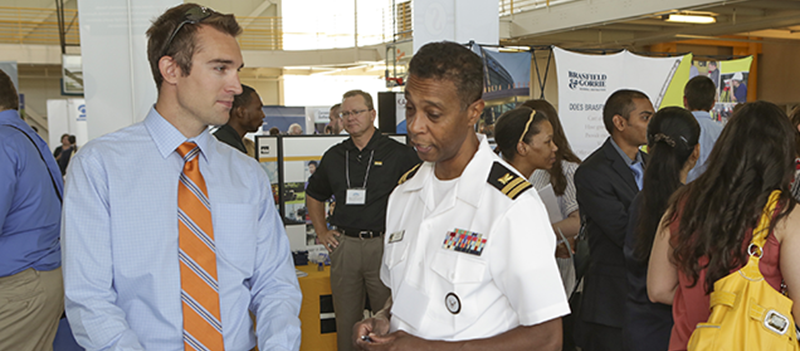 About the Program
NEW STEM (Non-commissioned Officer Enhanced Workforce in Science, Technology, Engineering and Mathematics) is a program designed specifically to connect veterans with professional and career opportunities that build upon their previous experience and optimize their degree interests. All veterans who have either been pre-approved for admission at UAH or who are currently enrolled at UAH and who are pursuing a degree in a STEM (science, technology, engineering or mathematics) field can participate in NEW STEM, garnering a paid Co-Op program offered by a federal agency or private sector company in Huntsville, Alabama.
Upon graduation,co-ops are often given priority consideration for a permanent position with the organization they worked for during their co-operative assignment.
Program Requirements
NEW STEM applicants must have training, experience, or previous academic coursework in one of the following technical areas: engineering (chemical, civil, computer, electrical, industrial, mechanical, aerospace or optical), mathematics or science.
Those interested in applying should:
Have a complete Charger Path profile including an uploaded an approved professional resume
Complete the Supplemental Application Form and return it to the Office of Cooperative Education and Career Development (Co-op and Career Office), Madison Hall 111
Upon acceptance of a co-op offer, officially register your co-op with UAH through the Co-op and Career Offfice
For Questions and Additional Information
Please contact Kellee Crawford, Career Programs Manager at 256.824.6938 or kellee.crawford@uah.edu
Local/State Resources
Alabama Department of Veterans Affairs
Veterans Health Administration
The United States Army/Redstone Arsenal
Veterans Affairs, Alabama Department
Veterans Guide to Paying for College
Higher Education Resources for Veterans and Their Families - A free guide of more than 150 resources to help student veterans and their families overcome the challenges of higher education and career training.