Graduate Program
Welcome!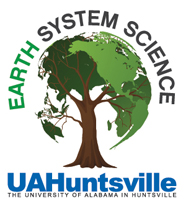 We are excited to launch our new M.S. in Earth System Science Program. Students will learn how to transition research to decision making and policy. Students will take 3 core courses including Climate, GIS/Remote Sensing and Environmental Threats/Public Policy. Through the Professional Development series, students will learn how to write proposals, peer reviewed papers and navigate graduate school and beyond. Thesis topics will be selected by involving decision makers from around the world.
Students who have a background in Earth System Science, Environmental Science, Geography, GIS/Remote Sensing, Atmospheric Science, Physics, Chemistry, and Biology will greatly benefit from this program.
We work closely with NASA's SERVIR program and our students are involved in research projects in Central America, Nepal, and Africa.