UAH alumnus wins NOAA award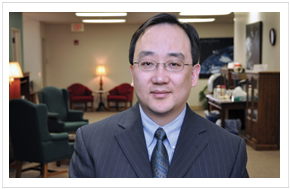 Jianglong Zhang, '04 Ph.D., atmospheric science, will receive the National Oceanic and Atmospheric Administration's David Johnson Award in March for his innovative work with complex data gathered by satellites.
An assistant professor in the Department of Atmospheric Sciences at the University of North Dakota, Zhang has focused on remote sensing of atmospheric aerosols and using data collected by satellites in near real time in forecast models.
The NOAA David Johnson Award for Outstanding Innovative Use of Earth Observation Satellite Data is presented each year to a young professional who shows outstanding innovation in the use of satellite data for operational environmental applications. Zhang was cited for "his pioneering role in the assimilation of satellite-retrieved aerosol data into an operational forecast model; work that has been far-reaching in both operational and climate-forecast modeling communities."
While the award is presented by NOAA, the winner is selected by the National Space Club. It will be presented during the club's annual Robert Goddard memorial dinner in Washington.
In 2010 Zhang received a Presidential Early Career Award for Scientists and Engineers ‹ the highest honor bestowed by the U.S. government on outstanding scientists and engineers beginning their independent careers ‹ from the National Science and Technology Council.
In addition to his doctorate from UAH, Zhang also has a master's degree in atmospheric science, '00, and a bachelor's degree in atmospheric physics, '92, both from Peking University.