Murphy honored by College of Science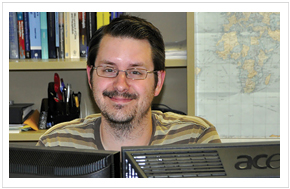 Todd Murphy, a doctoral student in atmospheric science, has been named one of the top graduate research assistants in UAHuntsville's College of Science for 2011-12.
While his research into storm formation and the April 27, 2011, storms that hit Alabama and the southeast U.S. might be ground breaking, it hasn't been the highlight of his semester. Instead, that happens most Mondays, Wednesdays and Fridays, when he gets to teach a class in synoptic meteorology.
"I'm very much enjoying it," he said. He especially enjoys seeing the "ah ha!" moment when a student comprehends a concept. "That's happened a few times this semester. Synoptic meteorology builds on several concepts, so you build up and build up and suddenly, it clicks. You can see it in their faces, like they're thinking, 'I understand this now. It all makes sense.'
"That's the fun part, seeing that light come on."
While he enjoys teaching (which is a good thing, since he wants to be a university professor), he was honored by the college for his research work with Dr. Kevin Knupp.
His award citation said: "His research may seem highly technical:
'An analysis of cold season supercell storms using the synthetic dual-Doppler technique.' And 'Observations of wave-like features interacting with a tornadic line-echo wave pattern.' His department believes these may become landmark works regarding the interaction of gravity waves and tornadic storms.
"It is work that he will continue to pursue in his dissertation. However, his research also has a local feeling about it. Todd has been active in the analysis and assessment of the April 27, 2011, tornado outbreak and will be a coauthor on two papers, 'The devastating 27 April 2011 tornado outbreak: An overview,' and 'Analysis of North Alabama mid-day QLCS during 27 April 2011."
"I'm kind of furthering the work that Dr. Tim Coleman started, looking at gravity waves," Murphy said. Coleman found indications that gravity waves — little studied phenomenon that move through the atmosphere like waves behind a ship move through the ocean — might contribute to tornadoes forming or becoming more powerful.
"There are indications," Murphy said, "of gravity waves interacting with some of the cells that spun off tornadoes on April 27. Right now we're still crunching the numbers. We have tons of data."
There is also preliminary data showing that in addition to influencing the formation or strength of tornadoes, gravity waves might also help initiate some storms, Murphy said.
A native of Mobile, Murphy received his B.S. in meteorology from the University of South Alabama in 2008.