Research Institute Celebrates 50 Years of Success, Opens Newest Lab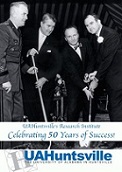 HUNTSVILLE, Ala. (Nov. 9, 2011) - The University of Alabama in Huntsville today celebrated the 50th anniversary of its Research Institute and opened its newest lab, The Reliability and Failure Analysis Laboratory (RFAL).
RFAL is designed to enable research to reduce the cost of ownership of defense and aerospace systems, according to Rhoades. University officials held a ceremony to mark the official opening of the lab.